By Negar Asadi & Ali Kushki 
'Japan seeking to transfer knowledge, experience to Iran'
December 25, 2016 - 8:47
TEHRAN - The Japan International Cooperation Agency is seeking to transfer knowledge and experience to the Iranians, Kohei Sato, the chief of JICA office in Iran, has said. 
"So far, we have sent Japanese experts to your country and we have invited your officials to Japan to transfer the Japanese knowledge and experience to your government officials," he told Tehran Times in an exclusive interview.
"Since 1957, we have sent more than one thousands Japanese experts to Iran to transfer their knowledge to the Iranian people and also more than three hundreds of the Iranian officials have been invited to Japan to be provided with certain training programs and courses for receiving Japanese knowledge and experience," he added.
Elaborating on JICA's activities, Sato said, "We provide the developing countries with financial and technical cooperation and supports."
He said that JICA is cooperating with Iran in the areas of construction, development and also infrastructure.
"Our mission is supporting your people and your country," he explained.
Sato said that JICA is a governmental agency being supervised by the Japanese Ministry of Foreign Affairs.
This is a kind of Japanese government's activity to make good relations with the Iranian people and government, he noted.
"So, this is our goal to find how to make good relations with Iran."
On areas of Iran-JICA cooperation, he said the Japanese agency is working in Iran in various fields of environmental conservation, water resources management, reduction of urban and rural community income disparities, disaster management, promotion of domestic industries, health, transportation, and reconstruction of Afghanistan
He also said, "Disaster management is one of our priorities… So, in Tehran we are helping build capacity for reducing risks in case an earthquake occurs."
Sato said JICA has conducted one project related to earthquake preparedness management.
"It has been for 15 years that we are working on a master plan. We have divided Tehran into different zones and have identified zones which are weaker when an earthquake occurs," he said, adding, "We have put instruments that once the earthquake takes place send message to head office of Tehran municipality."
Sato attached great importance to identifying roads for emergency evacuation, saying JICA is cooperating with Tehran municipality in this respect.
He noted that Japanese engineers hold training courses for the Iranians to construct buildings which are strong against earthquake.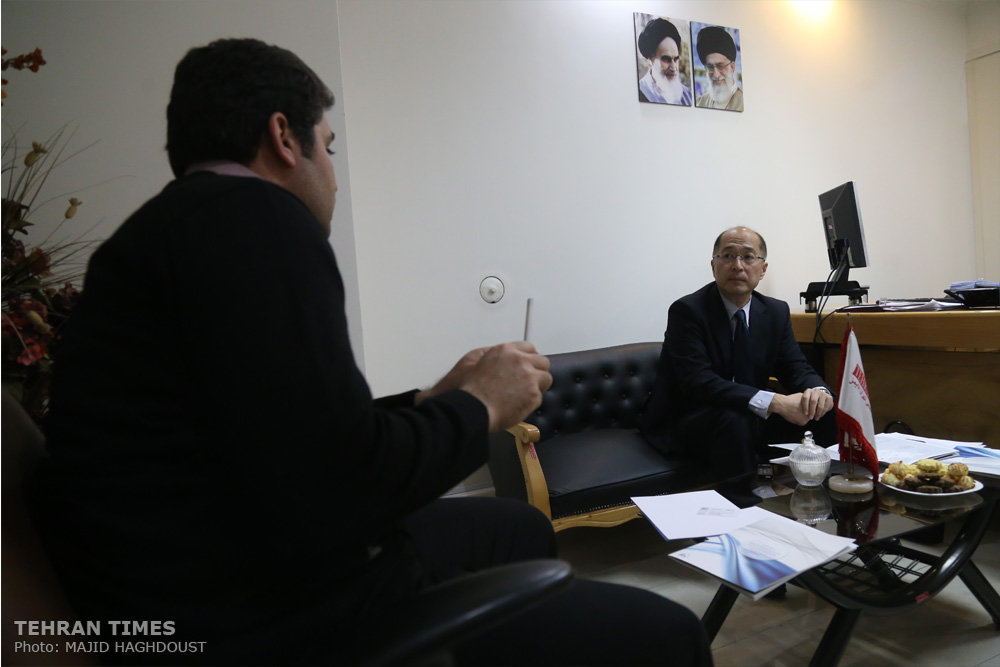 JICA conducts projects to save Lake Urmia
Sato said that JICA conducts projects on saving underground and surface water resources in line with saving Lake Urmia.
Lake Urmia in northwestern Iran was once the largest lake in the Middle East and the sixth-largest saltwater lake on Earth with a surface area of approximately 5,200 square kilometers. The lake has shrunk to 10 percent of its former size mostly due to damming of the rivers that flow into it and pumping of groundwater from the area.
'Participatory approach is very important for our activities'
Sato also said adopting participatory approach is very important for activities of JICA in Iran.
"We constantly hold talks with the Iranian officials and people to find out the country's needs in order to conduct projects and we also brief those participating to know how to manage the projects," he stated.
He cited Anzali Wetland Ecological Management Project as an example in which JICA asked the locals to join the project to transfer knowledge and experience.
On JICA plans for cooperation with Iran, he said that the agency is focusing on infrastructure for the future.
"We seek to expand our activities beyond environmental issues and disaster management based on the Iranians' needs," the chief of JICA office in Iran pointed out.
Elsewhere, Sato highlighted the importance of human resources to develop a country and its progress.
He said, "We invite the Iranian officials to Japan to provide them with training in this regard."