Iran marks 2009 rallies
December 31, 2016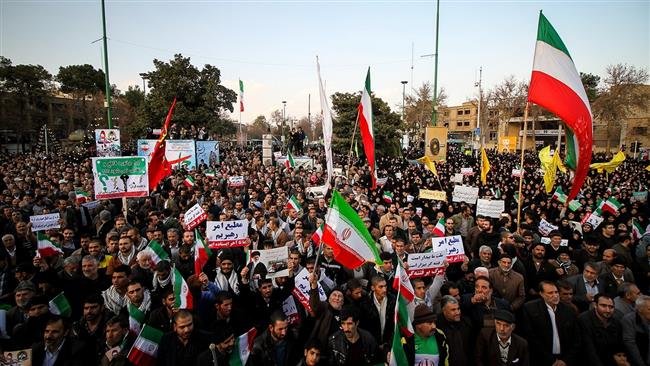 TEHRAN - Hundreds of thousands of Iranians took to the streets across the country on Thursday to mark the seventh anniversary of mass rallies staged on December 30, 2009 to guard the principles of the Islamic Revolution. 
People rallied in various cities, including the capital Tehran to celebrate "Dey 9 epic" which restored tranquility to the nation after months of political wrangling and unrest that had ensued the presidential election in June of the same year.
Hojjatoleslam Abdollah Haji Sadeqi, the deputy representative of the Leader in the IRGC, said the massive participation of people on December 30, 2009 was a "divine miracle".
Addressing worshippers in the shrine city of Qom on Friday, Haji Sadeqi likened the massive rallies to an "epic", saying, "This epic neutralized the greatest sedition after Islamic Revolution and proved that people are loyal to the rule of supreme jurisprudence."
Expediency Council secretary Mohsen Rezaei described the event as a true manifestation of the nation's and the Islamic establishment's political progress.
"Such a glorious and matchless demonstration was a shot at the heart of the United States, Israel and enemies of the Islamic establishment," he said in a speech in the central city of Yazd.
"Enemies were seeking to pit political parties against each other and accomplish their vicious plots against the establishment and our sacred Islamic Revolution but they failed," added Rezaei, the former chief of the Islamic Revolution Guards Corps.
On December 30, 2009, millions of people took to the streets in Tehran and several other major cities to condemn the unrest, which erupted following the 2009 presidential poll.
Protesters also sought to vent their anger at the incidents that had taken place days earlier in Tehran, where a group of demonstrators offended the sanctities on the day of Ashura, which marks the martyrdom anniversary of Imam Hussein (AS), the third Shia Imam and grandson of Prophet Muhammad (S).
The unrest was orchestrated by Mehdi Karroubi and Mir Hossein Musavi, two of the candidates who had lost the election. They claimed vote rigging. Both remain under house arrest on charges of provoking the public unrest and harming the national security.