Iran calls Hashd al-Shaabi 'strategic capacity'
January 3, 2017 - 20:9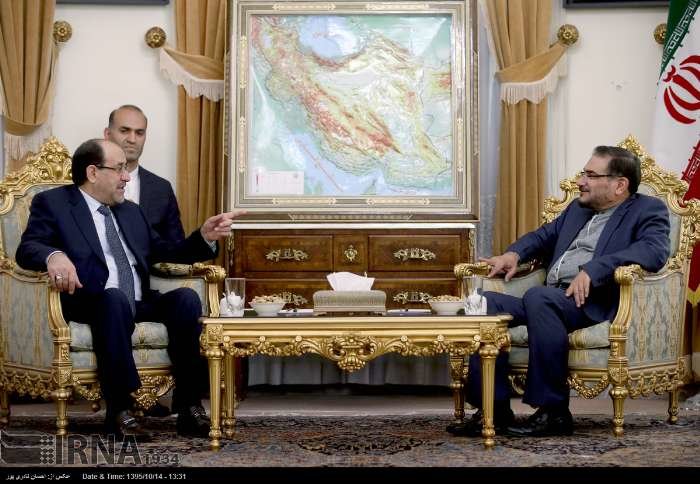 TEHRAN - Secretary of Iran's Supreme National Security Council Ali Shamkhani said on Tuesday that Hashd al-Shaabi, the Arabic name for the Iraqi Popular Mobilization Forces, is a "strategic capacity" for the future of Iraq.
During a meeting in Tehran with Nouri al-Maliki, the leader of the Islamic Dawa Party and former Iraqi prime minister, Shamkhani said reliance on domestic capacities is the right approach to fight terrorism.
The top security official reiterated Tehran's warning that terrorism is the main source of insecurity and instability, saying Iran is determined to support the Iraqi government and people in fighting terrorism.
He also said Tehran attaches great importance to "positive" and "constructive" interaction of Shia groups with other political and religious groups.
For his part, Maliki praised Iran's support for the Iraqi government and people.
'Iraqi government, people will be winner'
In a separate meeting with Maliki, Ali Akbar Velayati, the senior foreign policy advisor to the Leader, said that the Iraqi government and people will be the final winner.
Velayati also praised Maliki's role in promoting democracy in Iraq. He also expressed hope that Mosul would be liberated from the remnants of ISIL terrorists soon.
'Regional crises proved which country is hypocrite'
Ali Larijani, the Iranian Majlis speaker, who also held separate talks separately with Maliki, said conflicts in the region has proved the which country is hypocrite.
The regional crises "disclosed" that some countries' policies are in line with cooperating with the terrorists and fulfilling interests of the Zionist regime of Israel, Larijani noted.
He also said that unity among the Iraqi political groups is the key to success in fight against the terrorists.
Elsewhere, Larijani called for expansion of relations between Iran and Iraq.
Maliki said that expansion of Iran-Iraq ties can help settle the regional crises.
He also criticized some countries' position on regional developments.
Some countries, like Turkey and Saudi Arabia, hatched plots to disintegrate the region which were foiled, the former Iraqi prime minister said.
NA/PA