Iran, Russia discuss Syria, war on terror
January 13, 2017 - 20:12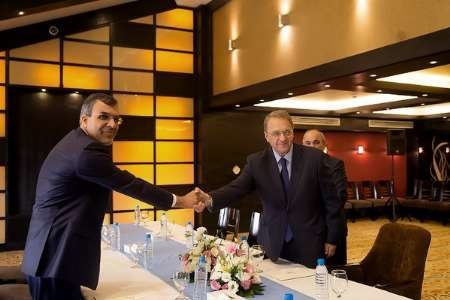 TEHRAN – Iranian Deputy Foreign Minister Hossein Jaberi Ansari met with his Russian counterpart on Friday to confer on the latest developments regarding the Syrian crisis and the war on terrorism.
Jaberi Ansari arrived in Moscow earlier in the day to meet with Mikhail Bogdanov, the Russian deputy foreign minister and President Putin's top envoy for the Middle East, Mehr news agency reported.
The Syrian crisis, war on terrorism, plans for talks in Astana, Kazakhstan, and the recent developments in the Middle East were among topics on which the two deputy foreign ministers exchanged views.
This is while the Syrian government and the opposition are due to hold bilateral talks, brokered by Russia and Turkey, on the political settlement of the Syrian conflict in Astana on January 23.
This follows a trilateral meeting of the foreign ministers of Iran, Russia, and Turkey in Moscow on December 20, which led to a nationwide ceasefire between the Syrian government and opposition forces on January 1.
Jaberi Ansari and Bogdanov had already met each other both in Tehran and Moscow and discussed the policies of their countries over the issues of war on terror, political solution for the Syrian conflict, and the recent developments in Iraq, Libya, and Yemen.
MH/PA