Nation grieves fallen firefighters
January 21, 2017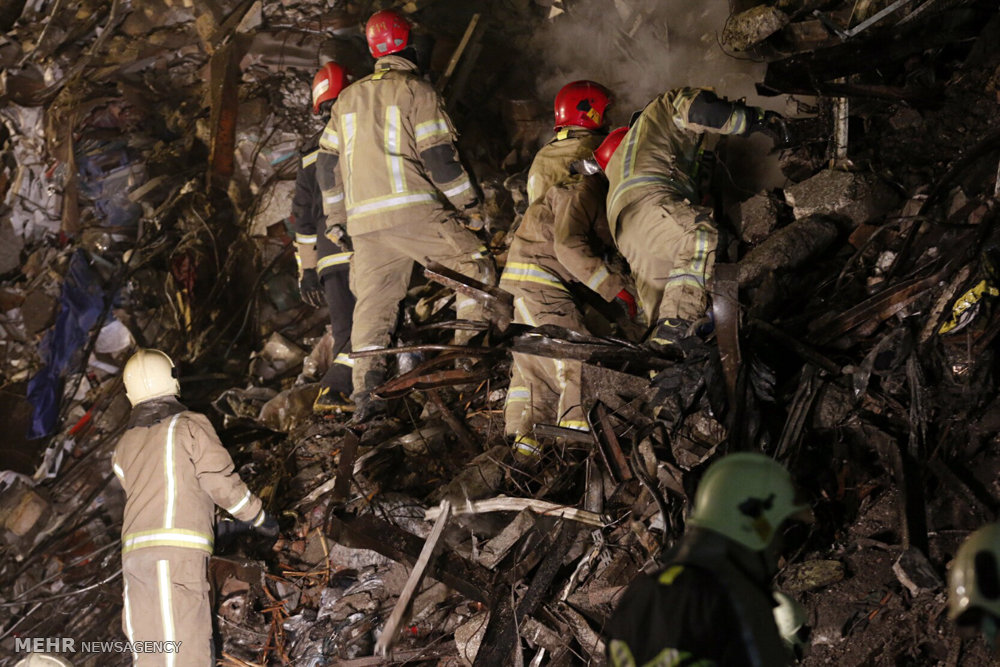 TEHRAN – The death of about 25 firefighters in Tehran on Thursday saddened the Iranian nation. 
The firemen were fighting the horrifying blaze for four hours which had engulfed the 17-story Plasco building in downtown Tehran. Suddenly, the building collapsed and buried firemen inside.
On Friday, the cabinet of ministers declared Saturday as a public mourning in memory of the firefighters.
The firemen were killed as they were evacuating people from the building, which housed hundreds of clothing warehouses as well as a shopping mall and other businesses.
Scores of workers and dozens of trucks were searching the ruins Thursday and Friday. Officials said that 25 people were still unaccounted for in addition to the firefighters.
ISNA reported on Friday evening that remains of bodies of two firefighters were taken out of the debris.
Condolences come from around the world
Political leaders and fire departments worldwide have expressed condolences over the tragic death of the firefighters.
Tajik President Emomali Rahmon, Pakistani Prime Minister Nawaz Sharif, Turkish President Recep Tayyip Erdogan and Prime Minister Binali Yildirim, and Russian Emergencies Minister Vladimir Puchkov sent condolence messages to the bereaved families and the Iranian nation.
The German embassy in Tehran also expressed its empathy by saying "we share the sorrow for those firefighters who have endangered their lives and got injured to fight the blaze in the Plasco building."
Moreover, the London Fire Brigade twitted: "Our thoughts are with the friends and families of the firefighters who have died following the fire and building collapse in Tehran.
The Huntersville Fire Department, North Carolina, the U.S., twitted: "Our thoughts & our prayers are with Iran & the many firefighters lost in the Plasco building fire & collapse."