Trump supporter abuses, kicks Muslim woman at JFK airport
January 28, 2017 - 14:6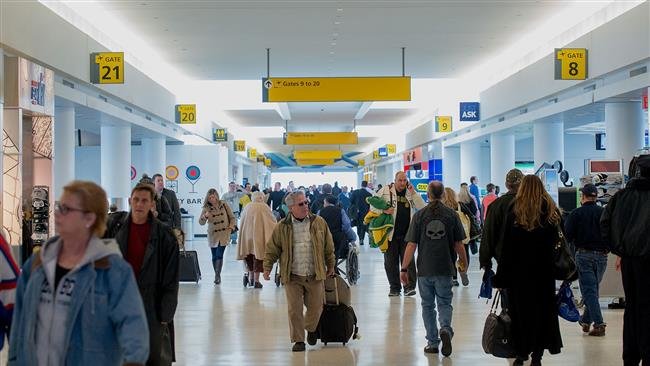 A supporter of US President Donald Trump from Massachusetts has attacked a Muslim woman at New York's John F. Kennedy International Airport, kicking and shouting obscenities at her.
According to authorities, the man told Rabeeya Khan, a Delta airline employee, that the new Republican president will kick out all Muslims from the United States.
"Trump is here now. He will get rid of all of you. You can ask Germany, Belgium and France about these kind of people. You see what happens," Robin Rhodes, of Worchester, told her.
Queens District Attorney Richard A. Brown said on Thursday that the incident happened on Wednesday night when Rhodes approached Khan, who wears a hijab, while she was sitting in her office.
The man, who was awaiting a connecting flight to Massachusetts at the JFK airport, started shouting profanities at the woman, and asked her if she was praying. Rhodes then punched the door, which hit the back of her chair.
The shocked woman asked the man what she had done wrong to him that he was behaving like that. He replied, "You did nothing." But he then started cursing her again and kicked her in the leg.
Khan ran out of her office, but Rhodes followed her, got down on his knees and started to bow down in imitation of a Muslim believer praying, and kept shouting obscenities at her.
The man was charged with assault, unlawful imprisonment, menacing and harassment as hate crimes.
When he was arrested he told police, "I guess I am going to jail for disorderly conduct."
Ridiculing the Muslim woman for wearing hijab, he said, "I couldn't tell if it was a man or woman because their back was to me and they had something covering their head."
During his presidential election campaign, Trump had called for a "total and complete shutdown of Muslims entering the United States."
Now President Trump is planning to sign executive orders to restrict immigration to the US, and suspension of visas for citizens of seven Islamic countries -- Syria, Iraq, Iran, Libya, Somalia, Sudan and Yemen, according to congressional aides and immigration experts briefed on the matter.
Trump is also reportedly moving ahead with a plan to create a database of Muslim Americans.
He told ABC News on Wednesday that Europe had made a big mistake by admitting millions of Muslim refugees from Syria and other Middle Eastern countries, and insisted: "I don't want that to happen here [in the US]."
Human Rights Watch has called on Trump to repudiate controversial proposals he made during the election campaign, saying that, if implemented, they would harm millions of people in the US and beyond.
(source: presstv)