Rouhani says sovereignty not the same as isolation
January 30, 2017 - 21:36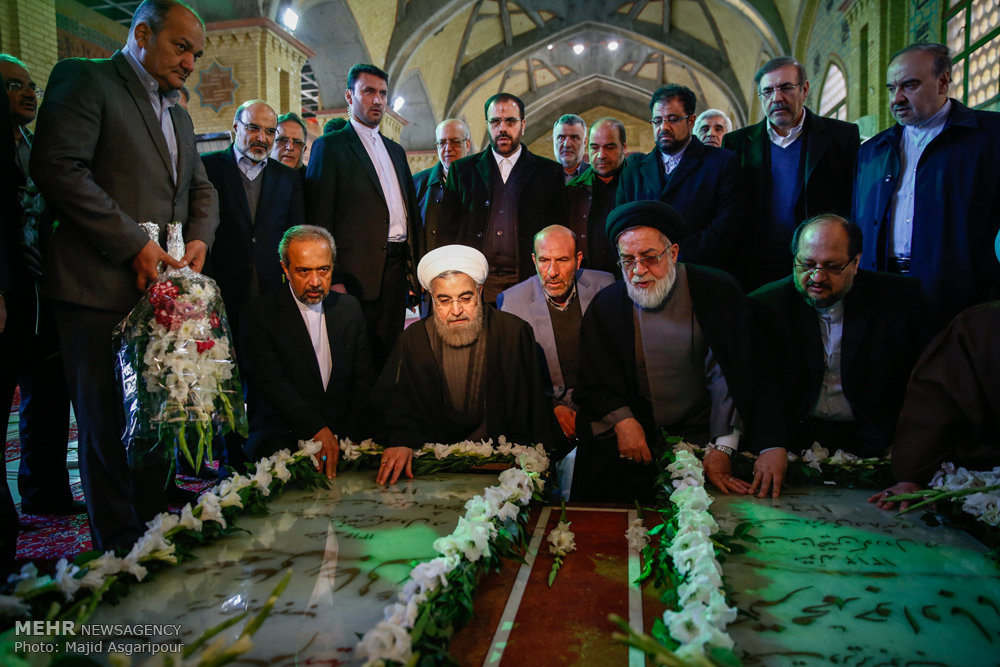 TEHRAN - Ahead of the 38th anniversary of the 1979 revolution that ousted a pro-Western monarchy, President Hassan Rouhani on Monday highlighted the importance of engaging with the world, differentiating sovereignty from isolation.  
"We're neither xenophilic nor xenophobic. We are Iranian, Muslim, and revolutionary, and will use constructive engagement with the world for the benefit of our people and national interests," Rouhani noted at the mausoleum of Imam Khomeini.
Annually, statesmen and figures from all political stripes gather at the mausoleum in February to renew allegiance to the founding father of the revolution.
This year's anniversary will be celebrated amid regrets over the passing of Ayatollah Akbar Hashemi Rafsanjani, one of the pillars of the revolution, and the tragic death of 16 firefighters on Jan. 19 in a huge inferno in central Tehran.
Helping found the Islamic republic and serving as president between 1989 and 1997, Rafsanjani died of a heart attack on Jan. 8, 2016, what Rouhani regrettably remembered.
"His memory will be cherished in the heart of the revolution and people," Rouhani said at the Imam Khomeini shrine.
People familiar with the issue argue that the absence of pragmatic Rafsanjani may influence Rouhani's popularity who is expected to contest the presidential elections due in May.
In 2013 elections, Rafsanjani threw his full support behind Rouhani, and encouraged people to follow suit.
Rouhani hailed the upcoming elections a "great test" for the Iranian nation.
Four decades after the revolution
Nearly four decades after the revolution, Iran still faces challenges such as unemployment and sluggish economy though it has made progress in other sectors like military and technology.
In the international arena, the 2015 nuclear deal was a milestone political accomplishment, resulting in the removal of sanctions against Tehran in exchange for a limited nuclear program.
The deal has laid the groundwork for "higher-level" relations with the European Union that is increasingly tilting toward Iran as a reliable source of energy after frizzy relations with Russia over the Crimea annexation.
Tehran has also been trying to expand it foreign policy to far-flung South American and West African countries through a sort of check-book diplomacy, countries ignored for so many years.
Closer political ties with Russia, China, and India have been built, too, with top executive figures of the three countries paying formal visits to Iran.
However, hostility with the Persian Gulf Arab states has increased over a list of subjects, notably the Syrian crisis with initiatives being taken to address bilateral concerns.
The balanced international face has been the outcome of a rational foreign policy implemented by Mohammad Javad Zarif who took over as foreign minister in 2013.
AK/PA