Swedish PM says Stockholm values ties with Iran
Situation ripe for Iran, EU to cement ties: Rouhani
February 11, 2017 - 20:53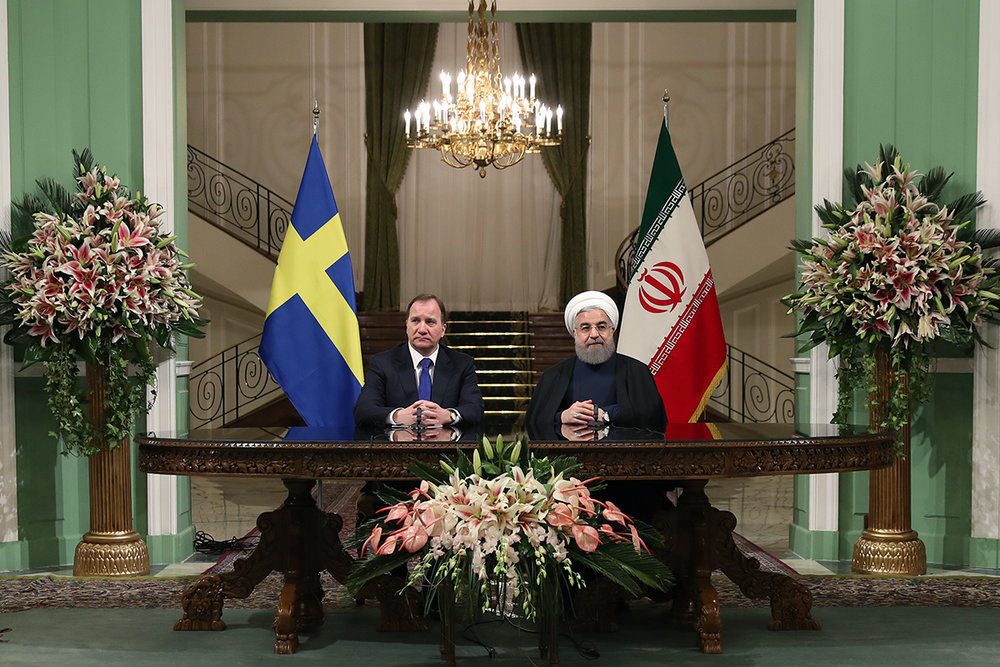 TEHRAN – President Hassan Rouhani said on Saturday said on Saturday that there is a good opportunity for Iran and the European Union to expand economic ties.
Rouhani made the remarks during a joint press conference with Swedish Prime Minister Stefan Löfven who arrived in Tehran on Saturday at the of business delegation.
"Today, there is a good situation for Iran and the European Union, especially Sweden, to expand economic relations," Rouhani noted

The president also said Iran attaches great importance to relations with Sweden and called for closer banking ties with the country.
Rouhani said, "The Swedish prime minister's visit along with a high ranking delegation indicates the two countries' determination to expand relations and reduce tension in the region and boost international peace and stability."
Sweden, as a member state to the EU and non-permanent member to the UN Security Council, is important for Iran, he added.
He also said that Sweden has always adopted a "moderate" position toward Iran, even on Tehran's nuclear program.
Rouhani said Iran and Sweden enjoy great capacities to expand relations, especially in areas of transportation, environment, communications, and IT.
For his part, Löfven said Stockholm greatly values relations with Iran.
Iran and Sweden signed five documents of cooperation in areas of technology, road construction, communications and IT, research, and family and women's affairs.
'Iran, Sweden can cooperate for nuclear safety
During a meeting between Iranian and Swedish high ranking delegations, Rouhani said that the two countries can also expand cooperation in the area of safety for nuclear facilities.
"Iran and Sweden can cooperate in various spheres, and Iran, as an industrial and technological hub of the region, is ready to manufacture joint products through joint investment," Rouhani suggested.
Elsewhere, Rouhani said the Zionist regime of Israel's actions are "provocative". He added that the regime's acts are the main source of tension in the Middle East.
Rouhani also said establishing stability and security in the region is the main objective of Iran.
Iran has been helping countries in countering terrorism upon requests by central governments, he said.
Rouhani said that the first step in fighting terrorism is eradicating the ideology behind the phenomenon.
Addressing the joint meeting of the two countries' delegations, Löfven said Sweden will continue his efforts in fight terrorism in the Middle East region.
He also called Iran the "main regional actor".
He also said that Sweden welcomes expansion of cooperation in various spheres.
Sweden supports banking relations with Iran, he added.
NA/PA