By: Edalat Abedini
Maranjab: Combination of desert, nature and history
March 30, 2017 - 3:11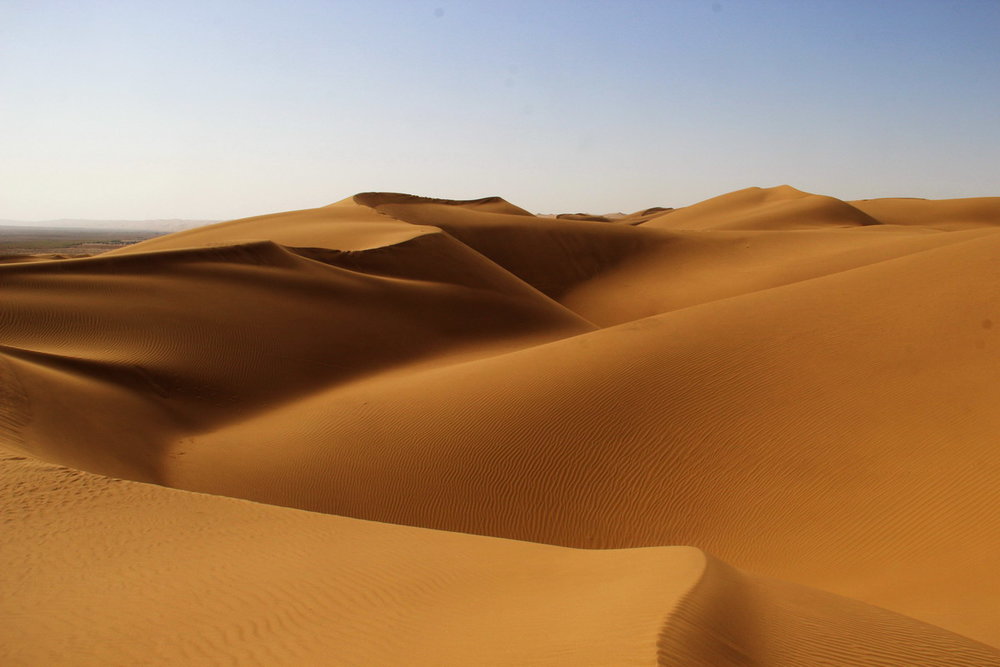 In addition to beaches, jungles, mountains and green areas, there are multiple and beautiful deserts in central parts of Iran. Beautiful Maranjab Desert is one of the most popular deserts of Iran that attracts many tourists from Iran and other countries every year.
This desert that is one of the best places for off-roads trips is located in the north of Aran and Bidgol city of Isfahan province. It is lead to salt lake from the north, Band-e Rig and Desert National Park from east, Masileh Desert, Hoz-e sultan and Moreh Lakes from west and eventually Aran and Bidgol from the south.
Average height of Desert is about 850 meters up to sea. The bulk of Desert is covered with sandy hills and Sabulous. Its vegetation consists mostly of Halophyte plants such as Tamarisk tree, Haloxylon, Zygophyllum.
Some of the animals of this areas are wolf, heyena, Rüppell's fox, Sand cat, Monitor lizard, Chameleons, types of lizard, Snake, Scorpion, See-see partridge, eagle and falcon.
High dunes, endless plains of desert, siah kouh (black mountain), beautiful sunrise and sunset, haloxylon jungles, salt lakes and super beautiful sky are main attractions of the desert. You can get to the heaven and touch the stars.
Salt lake
But salt lake of this area is counted one of the best attractions of this desert that with 647 square meters is located in 35 km far from the city. This lake is like the form of a triangle that its head is to north. Its base is about 65 km and height is about 60 km. Depth of it is variable from 5 to 54 meters.
In the rainfall month, depth of lake is about 2cm, but after sun radiation, quickly evaporates.
Jazireye sargardani
In the north east and middle of the lake, there is a low height mountain that is like the island and is surrounded with white crust of salt, that's name is Jazireye sargardani. Because of rainfall, only one or two moth of year this lake is visible and in the remaining days of the year turns to salt marsh
Caravanserai
There is an ancient historical place in this desert, that's name is Maranjab Caravanserai. History of that dated back to 350 years ago and safavid period. This Caravanserai with about 3500 Square meters area has 29 rooms. Despite the salt lake near of it, it has fresh water Qanat and very large pool. This karvasarei was built in Silk Road and connected khorasan, Isafahan and ray cities to each other.
To get this desert you should go to Kashan city. Go to Aran and bidgol city after kashan. In Imamzadeh Helal Ali holy shrine you ask people the route of desert.
Best time to visit of this desert is last days of autumn and before and after the early days of spring. There are rooms in karvansaraei to rest and there is possibility of using tent.
Some notes
- Don't go this desert alone
- Have enough water and foods, compass, GPS and detailed maps of area with yourself
- Use local guides of area
- Notify others of you way before trip
- Don't go out of road
- Protect the environment like your home.
PHOTO: A view of Maranjab Desert in central Iran