Tehran-Cairo détente hopes dented with Egypt's accusations 
March 20, 2017 - 11:44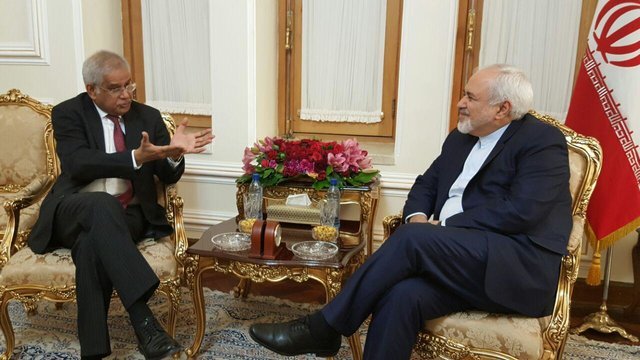 TEHRAN - Hopes for a thaw in stalled decades-long stalled relations between Egypt and Iran were dented after Egyptian Foreign Ministry accused Tehran of meddling in domestic affairs of Middle East countries. 
Spokesman Ahmed Abou Zeid made the remarks in an interview with Egypt's state radio on Sunday.
While underlining Tehran's influential role in the region, he said the Islamic Republic plays a negative role in some countries in the region.
He also said that Egypt establishes its relations with Iran upon mutual understanding and Tehran's role in the region.
"Cooperation between Iran and Egypt on regional issues will continue," he added.
Abou Zeid's remarks come weeks after Iranian Foreign Ministry said no progress had been made on relations between the two countries "Currently, there is no special progress (in bilateral ties), and relations are at the same level as they were in the past," Foreign Ministry spokesman Bahram Qassemi said earlier this month.
"We hope to overcome obstacles for the relations to enjoy a better situation," he added.
The comments were followed be a meeting between Yasser Othman, head of Egyptian interest section office in Tehran, with Alaeddin Boroujerdi, the chairman of Iran's parliamentary foreign affairs committee.
Othman stressed that Egypt was interested in improving ties with Iran, as an influential regional country.
Boroujerdi, for his part, said that Iran was determined to boost political and economic ties with Egypt. "The two countries share numerous common views on regional issues," he said.
The two countries have not had full diplomatic relations after the Islamic Revolution took place in Iran in 1979, when Egypt gave refuge to the ousted Shah of Iran Mohammad Reza Pahlavi.
However, Tehran and Cairo were brought closer together over their stance on the Syrian conflict after Egypt's President Abdul Fattah al-Sisi openly supported the Syrian Army against militant groups, risking a worsening of relations with key ally Saudi Arabia.
"Our priority is to support national armies, for example in Libya to exert control over Libya territory and deal with extremist elements. The same with Syria and Iraq," Sisi said in November 2016.
Egypt's major policy shift did not go unnoticed and became a source of concern for many actors in the Middle East, especially the Persian Gulf countries who have supported Sisi's government since the military coup that took place in Egypt on 3 July 2013.
Egypt was among prominent supporters of the Syrian opposition and was Riyadh's ally in what the Saudis saw as a geopolitical and sectarian conflict against Iran's influence in the region. But with Sisi's policy shift, Egypt took another path towards the Syrian crisis, one that might be much closer to that of Iran and Russia.
Back in October, the Guardian revealed that Iran's Foreign Minister Mohammad Javad Zarif personally lobbied Egypt to attend talks in Lausanne on October 15. It was also reported that Iran agreed to attend the Syria talks only once it had secured places for the foreign ministers of Egypt and Iraq at the discussions.
However, despite the increasing backstage talks and collaborations between the two countries, it is still too soon to predict what the future holds for Iran-Egypt relations as efforts to reach a thaw in the relations have been constantly thwarted by certain regional actors.
MH/AK