Rouhani says cooperation with Russia effective
March 28, 2017 - 14:25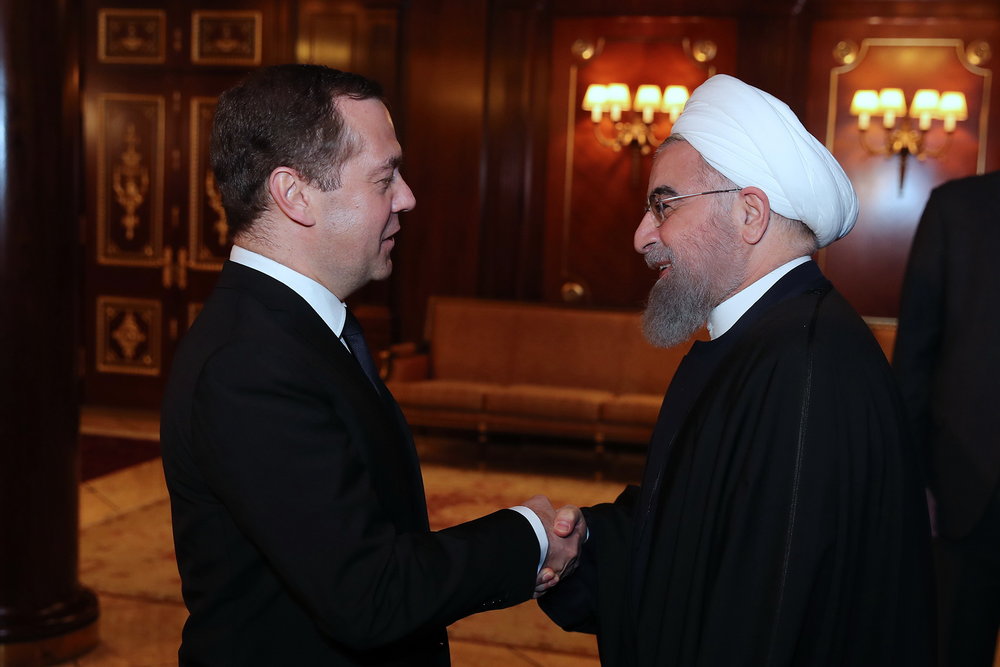 TEHRAN – Iranian President Hassan Rouhani said on Monday that Iran-Russia cooperation is effective in helping establish security and stability in the Middle East region.
"Undoubtedly, the two countries' cooperation in the process of stability and security of the region and the world will have positive effects," he said during a meeting with Russian Prime Minister Dmitry Medvedev in Moscow.
Rouhani expressed hope that his trip to Russia would lead to a new development in cooperation in various areas.
He added that Iran welcomes the expansion of relations with its neighboring countries in the region, especially Russia.
Medvedev said, "Moscow is determined to deepen ties with Tehran in all fields."
"Currently, there are good relations between the two countries and there is no doubt that this visit will contribute a lot to deepening Tehran-Moscow relations," he added.
Rouhani arrived in Moscow on Monday.
Russian President Vladimir Putin is scheduled to officially welcome the Iranian president at the Kremlin on Tuesday.
Rouhani and Putin plan to hold talks on a range of issues.
Iran and Russia, a successful political era
Iran and Russia have strengthened bilateral relations over the past few years.
Russia was one of the countries, coupled with other five ones, which played a consequential role in finalizing the 2015 international nuclear deal which removed economic sanctions against Tehran in exchange for it scaling down its nuclear program.
Also, Russia and Iran are both providing crucial military support to President Bashar al-Assad against terrorists and jihadi fighters in Syria's six-year-old conflict.
Last August, long-range Russian Tupolev-22M3 bombers and Sukhoi-34 fighter bombers used Nojeh air base, near the city of Hamadan, in north-west Iran to launch air strikes against armed groups in Syria.
It was the first time a foreign power had used an Iranian base since World War Two.
Now, the two, in collaboration with Turkey, are directly involved in negotiations to end the Syrian crisis, brokering rounds of talks between the Syrian government and the opposition groups.
The synergy has proven influential, resulting in a ceasefire which took force since the beginning of 2017.
Also, Russia and Iran ended a disputed on an air defense system after Moscow concluded the supply of the Russian-made S-300 surface-to-air missile defense systems to Iran.
Moscow was committed to delivering the systems, which are used to target tactical and ballistic aircraft and projectiles, to Tehran under an $800-million deal in 2007.
However, Russia banned the delivery of the systems to Tehran back in 2010, citing the fourth round of the UN Security Council sanctions, which bars hi-tech weapons sales to the Islamic Republic.
NA/AK