Report on collapse of Plasco building released
April 8, 2017 - 20:57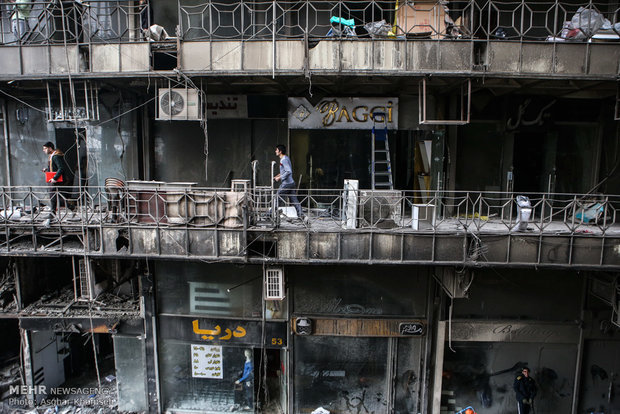 TEHRAN – The government officially issued a report on the collapse of the Plasco building in central Tehran, holding several departments and state entities responsible for the tragic incident which resulted in the death of 16 firemen.
President Hassan Rouhani received the report on Wednesday, weeks after he issued an order mandating a committee, consisting of leading academics, to look into the event and draft a comprehensive report about the incident.
The report found that the owner of the building, Mostazafan Foundation, had been negligent in the face of warnings by authorities on the possibility of disaster, noting that enforcing regulations by the owner and the municipality had been possible in the Plasco building without affecting the businesses.
The municipality is equally implicated by the report for failing to effectively enforce the implementation of Section 14 of Article 55 of municipal rules and relevant regulations.
It also said that the municipality had been systematically negligent in enforcing 22 of the national building regulations, which addresses the safety of the building and maintenance operations.
"The Ministry of Labor had fallen short of enforcing its share of the job in technical inspection of the building's safety measures against incidents," the report read. "It violated its inherent and statutory duties which was a factor in the Plasco collapse."
The report also said, "The Ministry of Urban Planning had been lax in enforcing provisions of the national building regulations, with the Interior Ministry also equally being subject to reprimand accordingly."
President Rouhani stressed that the public deserves to be provided with transparent information in case of any incident.
"The report is a feat of excellence given the limited time and the scope and complexity of the incident; it is significant since for the first time in country, an independent expert tribunal investigated the issue without any political pressures by the vested interests in the event," Rouhani said.
It will "greatly contribute to the restoration of public trust and national assets," the president added.
MH/PA