By Manijeh Rezapoor 
Children take center stage on Italy's Day at Tehran book fair
May 5, 2017 - 18:19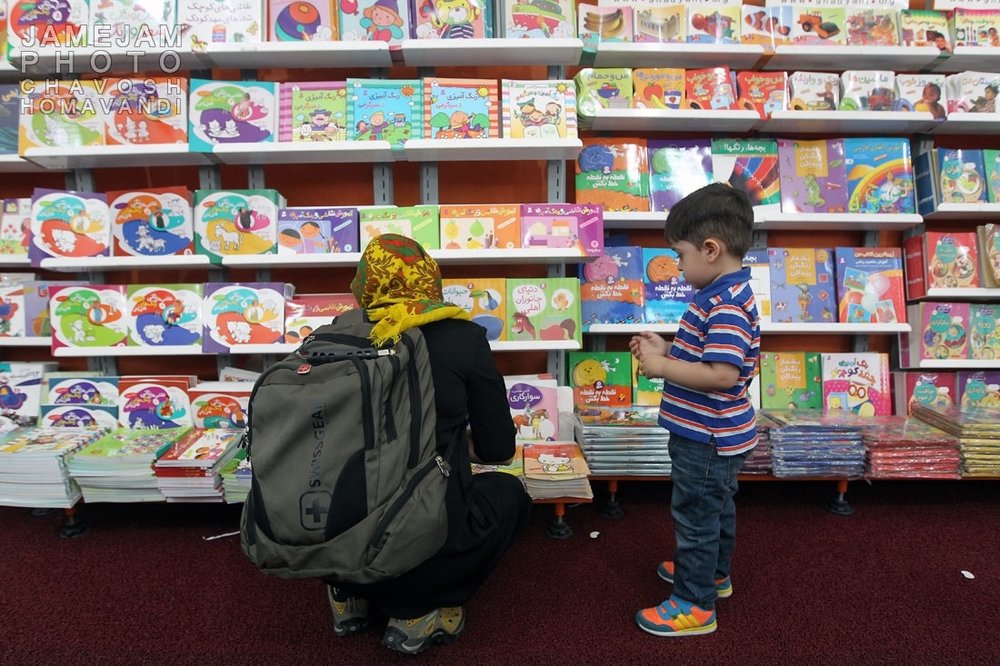 TEHRAN – Children opened Italy's Day with colorful programs during the 30th Tehran International Book Fair on Friday.
The programs started at the pavilion of Italy as the special guest of the book fair with honoring the winners of a creative writing contest organized by the Pietro Della Valle School, a Tehran-based Italian educational center.
A music performance by the Iranian-Italian youth group Anam was next among the programs.
Children were then entertained by two young storytellers narrating some of the most famous stories such as "The Little Red Riding Hood" in both Italian and Persian languages while illustrations from the stories were shown on a monitor.
Teachers from the school who also had good command of the Persian language were present at the pavilion to provide visitors with additional information about their country.
Fabio Tiddia, who is studying European philosophy at the University of Cagliari, was one of the teachers. He is teaching geography and history at the Italian school.
In his brief interview with the Tehran Times, he talked about his interest in Persian philosophy and said that he knows a little about Persian literature but wants to learn more about Persian poets like Rumi and Sadi.
"I am starting to read about the modern literature now like [Persian writers] Shamlu and Jalal Al-e Ahmad. We don't have translations of their books in Italy, but we have more on Persian classic literature like Rumi and Sadi," he said.
"My thesis is on the French philosopher, theologian, and Iranologist Henry Corbin and his relations with Iran and I am thinking of learning Persian to read things in their original language," he added.
He also mentioned that he has plans to translate works by the Persian Islamic theologian and mystic Muhammad Ghazali (1058-1111) and philosopher Allameh Mohammad-Hossein Tabatabai (1904-1981) into the Italian language.

The afternoon programs were followed by two sessions, the first of which was attended by the Italian poet Valerio Magrelli along with Iranian scholar Iman Mansub Nasiri who discussed the beauty of the Florentine poetry in the 13th and 14th century. This was followed by a recitation of an Italian translation of poetry of Hafez.
Italian writer, journalist and satirist Michele Serra, and writer and translator Mahsa Mohebali also attended the second meeting of the afternoon.
Photo: A child and his mother visit the 30th Tehran International Book Fair on May 3, 2017. (Jamejamonline/Chavosh Homavandi)

RM/MMS/YAW