By Samaneh Aboutalebi
Foreign novels more appealing to Iranian teens: publisher
May 9, 2017 - 19:16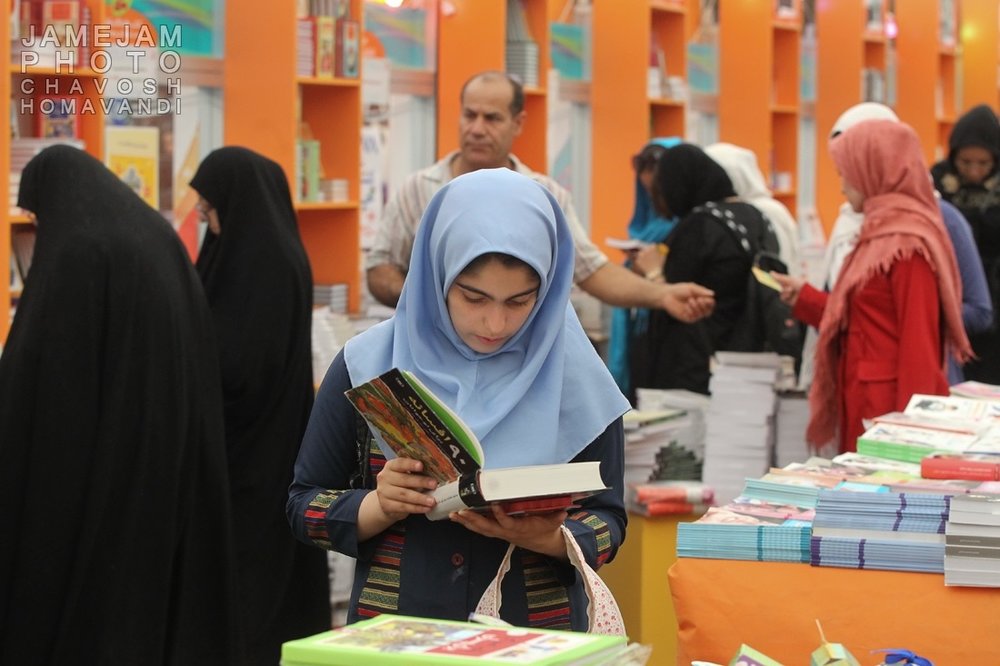 TEHRAN – A manager of Peydayesh, a major Tehran-based company active in children's publications, has said that foreign novels are more appealing to Iranian young adults.  
"Although some good Persian writers have emerged in children's literature over past few years, the foreign novels being published by our company are more appealing to Iranian teenagers," Maral Karimi told the Tehran Times at their pavilion in the Tehran International Book Fair earlier this week.
"Children are smarter nowadays and they have an unlimited access to other media so they don't enjoy simple stories anymore," she added.
"To satisfy their desire for foreign novels, we try to find works, which have received positive feedback in their countries of origin," she noted.
The novels are usually selected from among the bestsellers and works that have been honored by literary awards, she added.
Due to demands from Iranian teenagers, most of the foreign novels published in Persian are in the fantasy, horror and detective genres.
"Iranian children's writers are trying their best but we are still one step behind our children. They are wiser than before and they need more information with updated books," Zahra Khoini, the manager of the Cultural Department of Qadyani Publications, another Iranian publisher of children's book, said.
She noted that publishers make great efforts to find interesting books, which are adaptable to Iranian culture as well.
She said that they sometimes have to make slight alterations to the stories to make them appropriate for Iranian children.
"If we don't translate and prepare the books for teenagers, they can find unauthorized versions from different sources on the net, which are not acceptable to their parents, but the parents can fully trust our translations and editions," she explained
In addition, to achieve an acceptable standard for their children's books, most publishers hire an art director to supervise the illustrations created for their publications.
Due to the fact that Iran does not hold a membership in any international copyright convention, publishers face several problems.
"Not having any agreement with foreign publishers and writers causes us problems as several translations of one book may be published by Iranian companies at the same time," Khoini explained.

"Some publishers even deliberately choose to republish works from among bestsellers previously published by their colleagues," she stated.
While most of the publishers are more or less satisfied with the market, Heshmat Omidi, the manager of distribution section of Hermes Publications doesn't think so.
He criticized some bookstores for using other materials to lure children.
"The book shops put Chinese toys in their windows instead of books," he said.
He asked parents to help their children make proper choices. "They should introduce good books to their children instead of giving them tablets and access to video games and the internet," he added.
Omidi also lamented that the organizers of the Tehran book fair appear not to care about dedicating an appropriate place for the children's publishers.
The children's publishers are being housed in some very big tents set up in the Shahr-e Aftab Fairground, which hosted the book fair for the first time last year. They are faced with damages caused by spring rains every year. In addition, the tents lack air conditioning.
However, most of the publishers agreed that the new venue is better than Imam Khomeini Mosalla, which hosted the book fair during previous editions.
"Children's needs are different from adults," said Alireza Sadeqi, an official of the Institute for Intellectual Development of Children and Young Adults. "They should be provided with places for children to rest."
Fatemeh Khodai, a visitor who was looking for some religious stories for her five-year-old daughter, said, "My daughter is tired and there is no place inside the tents for children to rest."
Mahsa Zeidi, another visitor who is the mother of a six-month-old boy, said that she wants her child to be familiar with reading and books even at this early age.
"Whatever you can't tell your children directly, can be taught through stories," she stated.
Photo: A teenage girl visits the 30th Tehran International Book Fair at the Shahr-e Aftab Fairground on May 7, 2017. (Jamejamonline/Chavosh Homavandi)
ABU/MMS/YAW