By H.E. PANG Sen, Ambassador Extraordinary and Plenipotentiary of China to Iran
The Silk Road: Glorious Past and Even Brighter Future
May 22, 2017 - 14:31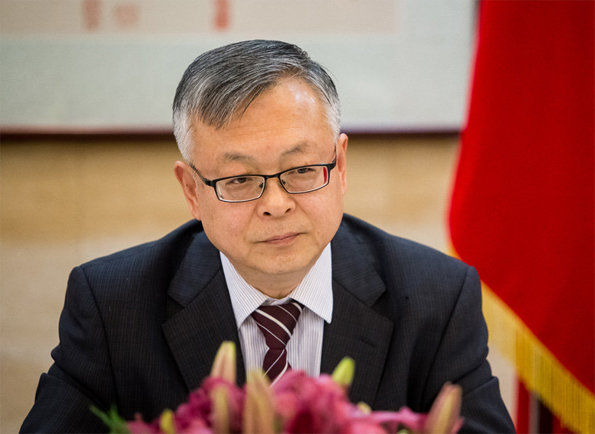 Over 2,000 years ago, an official delegation sent by the Chinese Emperor arrived in this piece of land after an arduous long journey. The road he travelled was the original ancient Silk Road and ever since then, the two civilizations of China and Persia had been interlinked with each other.
Later on, Persian artists and craftsmen together with Iranian products reached China by horses and camels through this road and merchant ships loaded with Chinese goods started to dock at the Port of Hormuz of Iran. This was a historic picture of mutual learning and friendly exchanges, and numerous touching stories of bilateral interactions had been passed on from generations to generations.
Nowadays, great changes are taking place along the ancient Silk Road. Chinese President H.E. Mr. Xi Jinping in 2013 put forward the initiative of the Silk Road Economic Belt and the 21st Century Maritime Silk Road (the B&R Initiative), calling upon countries along the B&R to build a community of shared interests and common destiny together, thus injecting new vitality to the B&R.
Since the launching of the Initiative over three years ago, tangible progress has been made. Many countries, including Iran, have voiced support to this Initiative. By focusing on policy coordination, facilities connectivity, unimpeded trade, financial integration and people-to-people bond, the participating countries have deepened their cooperation in all these aspects and a series of early harvest have been achieved. The financing mechanism is functioning, the infrastructure connectivity is taking shape, the industrial capacity cooperation is accelerating, the construction of economic corridors is moving forward, the volume of trade and investment is growing rapidly, and people-to-people exchanges are further deepening. These achievements have laid solid basis for the further progress of the Initiative.
For centuries, Iran has been one of the most important traffic hubs and trading centers along the B&R. Located at the conjunction of the B&R, Iran enjoys an outstanding geo-strategic position. Since the implementation of the Joint Comprehensive Plan of Action between P5+1 and Iran in 2016, the internal and external environment of Iran has improved a lot, which provides better condition for the cooperation between China and Iran.
As a Chinese saying goes, real friends feel close even when they are far apart. For a long time, China and Iran have maintained friendly relationship. In January 2016, Chinese President Mr. Xi Jinping paid a historic visit to Iran and leaders of the two countries reached a series of important consensuses on strengthening bilateral ties. Chinese Vice Premier Madam LIU Yandong and Defense Minister General CHANG Wanquan visited Iran subsequently, and Iranian Economy Minister Mr. Ali Tayebnia and the Foreign Minister Mr. Mohammad Javad Zarif visited China, aiming to implementing the outcomes of President Xi's visit and deepening bilateral cooperation in all areas.
For eight consecutive years, China remained as the biggest trading partner of Iran. Chinese and Iranians companies are now cooperating in many fields such as energy, transportation, machinery, metallurgy, hydro-power, electricity, telecommunication, construction materials, and automobile. The construction of the Tehran-Qom-Isfahan high-speed railway is underway, the Tehran-Mashhad railway modernization project is about to commence, the new line of Tehran metro goes smoothly, and the Yiwu-Tehran direct cargo train has made its initial voyage. Two important oil projects, namely the North Azadegan Project of the CNPC and the Yadavaran Project of the SINOPEC, had been completed late last year and their opening ceremony was launched at the presence of H.E. President Hassan Rouhani. Moreover, the CNPC and the NIOC had signed a new head agreement for the development of South Pars gas field. Nowadays, more and more Chinese companies are opening business in Iran and the Chinese-funded R&D parks and automobile industry zones are in operation. Chinese trademarks, such as HUAWEI and CHERY are now enjoying great popularity in Iran. The exchanges between various circles of Chinese and Iranian society are also on the rise.
"There is a road communing different hearts", says an ancient Iranian proverb. The people-to-people exchange between China and Iran is gathering pace. In late April this year, Madam LIU Yandong, Chinese Vice Premier, paid a successful visit to Iran and exchanged views on technological, educational and cultural cooperation with her Iranian counterpart H.E. Sorena Sattari, Vice President of Iran. The Confucius Institute at the Tehran University attracts a lot of Iranian college students to learn Chinese language and it's no longer surprising to hear a flawless pronounced "Ni Hao" ("hello" in Chinese) when strolling along the streets of Tehran today. The celebrations of "Happy Chinese New Year & Happy Iranian Nowruz" had been organized for five consecutive years by the Chinese Embassy together with Iran-China Friendship Association and received huge attendance from the local community. Last August, China for the first time held in Tehran a series of cultural events focusing on Xinjiang, China. In March this year, the 2018 World Cup Qualifier in Asia between China and Iran wrapped up in Tehran, where the Chinese and Iranian national team jointly presented a wonderful football match for an audience of more than 100 thousand fans and numerous TV viewers.
The B&R cooperation between China and Iran enjoys a bright future. We will work together to create a green, healthy, intelligent and peaceful Silk Road with Iranian counterparts. Several days ago, the Belt and Road Forum for International Cooperation was held in Beijing. Distinguished guests from various countries, including Iran, drew up the blueprint for future cooperation. I strongly believe that cooperation between China and Iran will be inspired and promoted by this magnificent event.