Intelligence shows S. Arabia promoting terror in Iran's borders: Zarif
June 13, 2017 - 15:11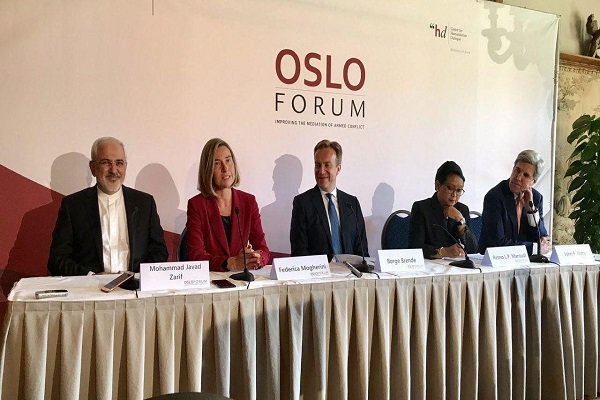 Foreign Minister Mohammad Javad Zarif said on Tuesday that Iran has obtained intelligence showing that Saudi Arabia is actively involved in activities promoting terrorism in Iran's eastern and western border areas.
"We have intelligence that Saudi Arabia is actively engaged in promoting terrorist groups," Zarif told the opening of the Oslo Forum in Norway.
Daesh, which draws its ideology from Saudi-inspired Wahhabism, claimed responsibility for twin attacks in Tehran on June 7 which left 17 people dead and 56 others wounded.
One day prior to the terrorist attacks in Tehran, Saudi Foreign Minister Adel al-Jubeir said Iran had to be "punished" for what he called "its interference in the region." Also, on May 2 Saudi Crown Prince Mohammed bin Salman outrageously claimed that Iran is seeking to take over Islamic holy sites in Saudi Arabia and "we won't wait for the battle to be in Saudi Arabia… we'll work so that the battle is for them in Iran."
Though the crown prince did not elaborate on his remarks, analysts say it cannot be anything other than doing terrorist activities inside Iran.
Zarif told the Oslo forum that such remarks are a "direct threat and very dangerous provocation".
PA/PA