Iranian delegation in Kazakhstan for Syria peace talks
July 3, 2017 - 20:31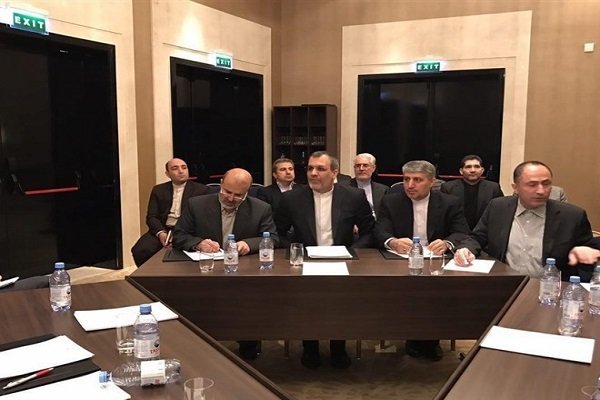 TEHRAN – An Iranian delegation, headed by Deputy Foreign Minister Jaberi Ansari, has departed the country for Kazakh capital of Astana to partake in the fifth round of talks in pursuit of peace in Syria.
The delegation arrived in Astana on Monday for a joint working group session with representatives of the two other guarantors of the Syrian ceasefire – Russia and Turkey – a day before the Astana talks.
The expert talks were held on Monday and the main round of negotiations between the Syrian government and militant groups will be held on July 4 and 5.
The fifth round of the peace initiative was scheduled to be held in June but was later postponed.
Participants are expected to discuss documents regulating the parameters of the de-escalation zones as well as the issue of unfettered humanitarian access and rebuilding of infrastructure.
The Astana talks have brought representatives from the Syrian government and opposition groups to the negotiating table in order to find a solution to the Syrian conflict, which broke out in March 2011.
Iran, Turkey and Russia brokered the Astana talks on the Syrian crisis. The first three rounds of the talks were held on January 23-24, February 15-16 and March 14-15.
The fourth round of the talks was held in May during which a document on creating de-escalation zones in Syria was signed.
According to the document, the de-escalation zones include Idlib province and part of the provinces of Latakia, Hama and Aleppo, the area to the north of Homs, Eastern Ghouta, as well as Deraa and Quneitra provinces in southern Syria.
The de-escalation zones are closed to the U.S.-led coalition's aviation. The coalition's aviation can operate only in areas controlled by Daesh.
Weeks ago, Jaberi Ansari said the three guarantor states had held three sessions – two in Ankara and one in Oslo – to specify technical and geographical details of four safe zones in Syria.
"An important part of the issues raised among the three countries is resolved and general agreements have been reached on them," he said, adding that the three countries have agreed to follow up on the remaining issues through diplomatic channels.
Since the beginning of the Syrian conflict, Iran and Russia have been supporting the Damascus government, while Turkey has supported the militant groups which are fighting against the government of Bashar al-Assad.
MH/PA