Iran: U.S. statement on jailed citizens is unacceptable, meddlesome
July 22, 2017 - 21:38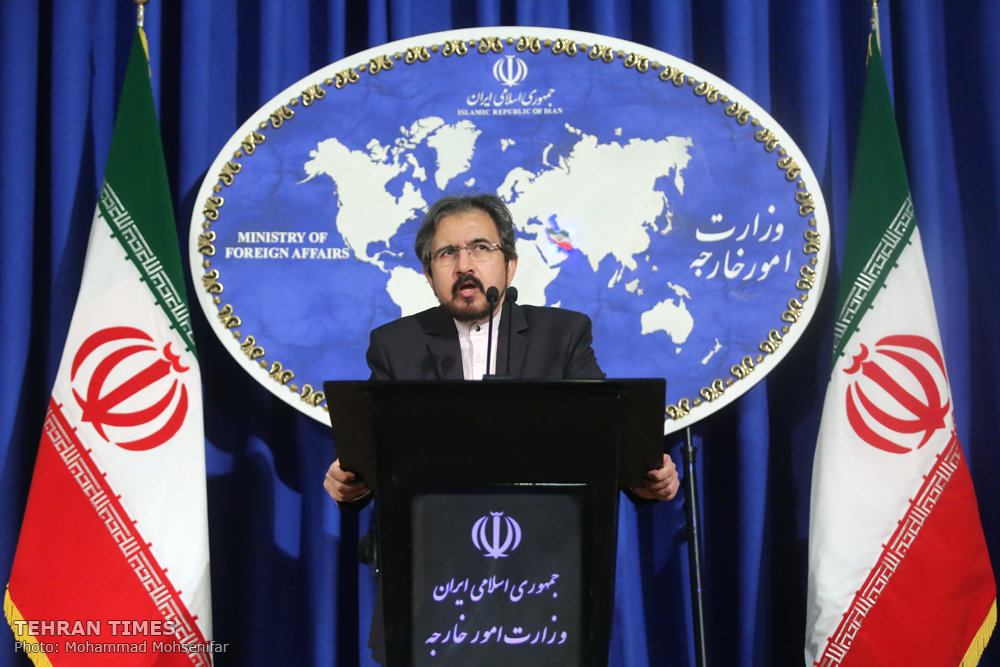 TEHRAN – Iran on Saturday rejected a White House statement on American citizens jailed in Iran, branding it as "unacceptable and meddlesome". 
"As always, the White House's statements are an instance of interference in Iran's internal affairs, and are unacceptable and rejected," Iran's Foreign Ministry spokesman Bahram Qassemi said.
"According to judicial officials, the individuals referred to in the White House's statement are under allegations under Iran's law which needs to be investigated," Qassemi added.

The top Iranian diplomat also urged Washington to "immediately release" Iranian nationals detained in the U.S., one of whom had already died.
He did not elaborate more.
In a statement on Friday, U.S. President Donald Trump and his administration warned Iran to release and return "unjustly detained" American citizens, otherwise, it should brace itself for "new and serious consequences".
"President Trump is prepared to impose new and serious consequences on Iran unless all unjustly imprisoned American citizens are released and returned," the statement said, adding that administration was "redoubling efforts to bring back all Americans unjustly detained abroad."
The statement capped a week of rhetoric against Tehran. On Tuesday, Washington slapped new economic sanctions against Iran over its ballistic missile program, claiming Tehran's "malign activities" in the Middle East undercut any "positive contributions" coming from the 2015 nuclear accord between Iran and six world powers.
The statement mentioned Robert Levinson, Xiyue Wang and Siamak Namazi and his father Baqer.
Levinson, 68, if still alive, disappeared in 2007 from Iran's Kish Island in 2007. In 2013, a years-long investigation by the Associated Press alleged that Robinson had been engaged in an extraordinarily unusual intelligence operation on Iranian officials' corruption initiated by three unofficial CIA analysts.
The report countered a statement by the Obama administration in 2013 who rejected Levinson was in Iran on behalf of any government body, saying he went missing on "a business trip".
The last time Levinson was seen alive was in a 2010 hostage video, though it remains unclear exactly who was holding him.
Iran has denied any knowledge of his whereabouts, but Obama suggested in his announcement of the prisoner swap that Iran had "agreed to deepen our coordination as we work to locate Robert Levinson."
The U.S. government has a $5 million reward for clues leading to Robinson's safe return.
In his presidential campaign, Trump pledged to make Levinson's case a priority.
In his remarks, Qassemi said Iran has no "new clue" of what happened to Robinson after had left Iran.
Siamak, a 46-year-old businessman, was apprehended by the Islamic Revolutionary Guards Crops in Tehran in October 2015, was later charged by Iran's Judiciary with espionage and collusion with an enemy country. His 80-year-old elderly father Baqer was also arrested in February.
Siamak formerly worked for the Sharjah-based oil and gas company Crescent Petroleum.
Signing a deal in 2001, Iran and Crescent have been locked in negotiations about the price of gas exports from the Iranian offshore Salman field since 2006.
Wang, 37 and a graduate student from Princeton University, was sentenced to 10 years in jail on spying charges by Iran's Judiciary, last week.
Iran said Wang had bribed library officials in Iran, and had sent 4,500 pages of digital documents to the U.S.
Wang's academic adviser, history Professor Stephen Kotkin, and fellow graduate students has offered a different narrative, saying that scanning historical documents for later review is a common practice for researchers.
Past experience holds promising clues for Tehran and Washington. In 2016, Tehran, as it was preparing to implement the historic nuclear deal, released four dual-nationality Americans, including Jason Rezaian, the Washington Post journalist imprisoned in Iran for more than a year.
The achievement was an outcome of personal diplomacy between Iranian Foreign Minister Mohammad Javad Zarif and his American counterpart John Kerry.
AK/PA