Crises cannot be settled militarily, Iran reiterates
July 26, 2017 - 20:40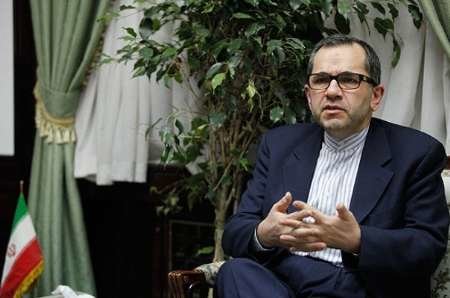 TEHRAN - On Tuesday Iranian Deputy Foreign Minister Majid Takht-Ravanchi reiterated Tehran's position that crises in the Middle East region cannot be settled through military actions.
"A long lasting and effective solution can only be reached through dialogue and negotiation," Takht-Ravanchi said during a meeting with Gordan Bakota, the assistant minister of foreign and European affairs of Croatia.
Takht-Ravanchi, Iran's point man for European and American affairs, said that the future of the war-stricken countries should only be determined by the people of the countries themselves without any foreign interference.
The war in Syria has been raging in Syria for more than six years. According to the UN estimates, the war has left hundreds of thousands of people dead and displaced millions.
The Saudi-led war on Yemen, which started in March 2016, has also pushed the country to the verge of extreme starvation.
Dangerous consequences
In his meeting with the vising Croatian official, Takht-Ravanchi also elaborated on roots of terrorism and extremism in the region and the larger world.
The main flames of Takfiri and Wahhabi terrorism which first emerged in Afghanistan has now spread to many countries in the world. It is now taking tolls in East Asia to Europe.
For his part, Bakota pointed to the status of Iran in the region and called for exchange of views in fight against terrorism and extremism.
Bakota also said terrorism has dangerous consequences for the world.
The Iranian and Croatian officials also discussed expansion of bilateral relations.
NA/PA