Iran says to continue backing Syria until security prevails
August 6, 2017 - 20:43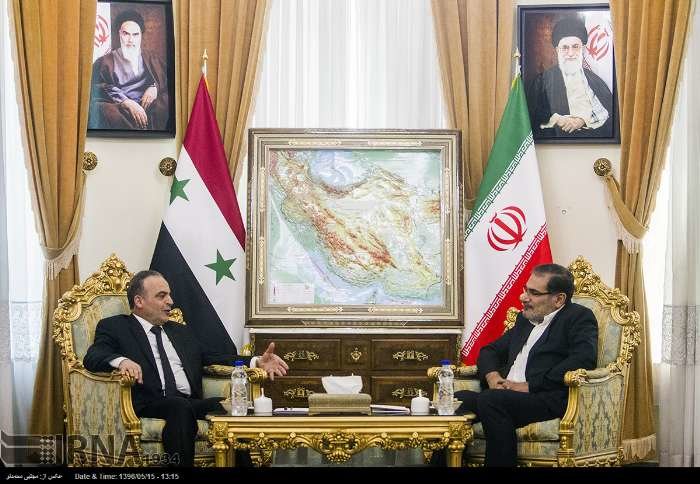 TEHRAN – Iran's Supreme National Security Council Secretary Ali Shamkhani said on Sunday that Tehran will continue supporting Syrian government and people until security prevails in the country.
Speaking in a meeting with Syrian Prime Minister Imad Khamis in Tehran, Shamkhani also highlighted the importance of inter-Syrian dialogue to reach an agreement.
He noted, "The Western countries take suspicious actions in line with stabilizing terrorism and undermining security in the region instead of fighting terrorist elements whose harmful consequences spread terrorism in the world."
Peace and stability can be restored to the region if financial and arms help to the terrorist is cut, added Shamkhani who was defense minister from 1997 to 2005.
He also described the bombardment of the Syrian city of Raqqa by U.S. warplanes in which a large number of civilians were killed as "genocide" and a "clear violation of human rights".
The U.S. and its allies have been bombarding what they call Daesh positions in Syria since September 2014.
According to reports, an airstrike by the U.S.-led coalition fighter jets on Saturday left over 40 civilians killed.
For his part, Khamis said a long-lasting peace and security can be reached in Syria if some countries change their approach in supporting terrorism and start real fight against terrorists.
He went on to say that the Damascus government prioritizes political approach to end the long-running conflict in the country.
Khamis also praised Iran's support for the Syrian government and people.
Larijani says Iran supports Syrians
In a separate meeting with Khamis, Iranian Majlis Speaker Ali Larijani also said the Islamic Republic has supported and will continue to support the Syrian government and people.
He also expressed hope that peace would be established in the region including Syria soon.
The Syrian prime minister said, "The U.S., Israel and Saudi Arabia sowed seed of terrorism and created such a crisis. They seek to destabilize the region, but we will not let them reach their objectives."
Khamis also said that Iran plays an "effective" role in establishing peace.
He expressed hope that Saudi Arabia would stop cooperating with the U.S. and the Zionist regime of Israel and help restore regional peace.
NA/PA