'International determination required to alleviate the sufferings of Syrians'
Tehran lauds performance of anti-terror bloc in Syria
January 9, 2017 - 13:7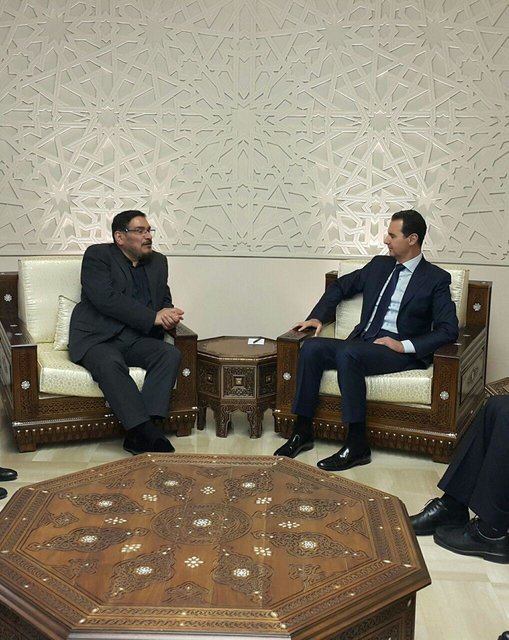 TEHRAN - Secretary of the Supreme National Security Council Ali Shamkhani said on Sunday that "international determination" and "comprehensive efforts" are required to alleviate the sufferings of the Syrian people.
During a meeting in Damascus on Sunday with Syrian President Bashar al-Assad, Shamkhani also highlighted the need to involve the international community in efforts to reconstruct the Syrian infrastructure.
He also said, "Close cooperation among Tehran, Damascus and Moscow along with the resistance front brought many valuable victories and let the united anti-terrorism front take the political initiative (in Syria)."
Under a plan introduced by Iran, Russia and Turkey in Moscow on December 20 a ceasefire was declared in Syria on December 30. Under the initiative, known as the Moscow declaration, the warring sides – the government and opposition groups – are scheduled to sit for peace talks in Astana, Kazakhstan, in late January.
The talks does not include terrorists including Al-Nusra Front and Daesh.

Shamkhnai warned about some instances of ceasefire violations which are primarily intended to derail efforts to resolve the protracted Syrian war politically.
He reiterated the long-sought policy by Iran to bring the Syrian warring sides to the negotiating table in order to end bloodshed in the country.
Elsewhere, he said Syrians can settle the crisis between themselves and asked "the "UN and the influential countries" to help advance talks between Syrians.
Shamkhani also said, "The countries which do not have the courage to admit the mistakes they made in Syria and insist on continuing their wrong behavior will definitely face problems and irreparable damages."
For his part, Assad praised Iran's effective role in helping Syria counter terrorism, saying Syria will continue fighting Al-Nusra Front and Daesh till the terrorist groups are eradicated.
Pointing to the destructive role of some Persian Gulf Arab littoral states and some neighbors in Syria, he said their supports for the terrorist groups will prevent restoration of regional peace and stability.
Terrorism has no border and these countries will also be influenced by the horrors of violence, the Syrian leader predicted.
'Historic event'
In a separate meeting with Ali Mamlouk, a special security adviser to Syrian president, Shamkhani called liberation of Aleppo a "historic event".
The nationwide ceasefire between the government and rebels went into force after Aleppo was liberated from the occupation of terrorists.
Iran's security official said the truce should not provide an opportunity for the terrorists to regroup themselves.
Mamlouk said that the Syrian government and people are determined to continue fighting terrorism by the time the phenomenon is eradicated.
He added the Syrian independence and territorial integrity is the "red line" in any political dialogue.
He also praised Iran's supports for the Syrian government and people.
NA/PA