Assad says gains in Syria shared by Iran
January 4, 2017 - 21:35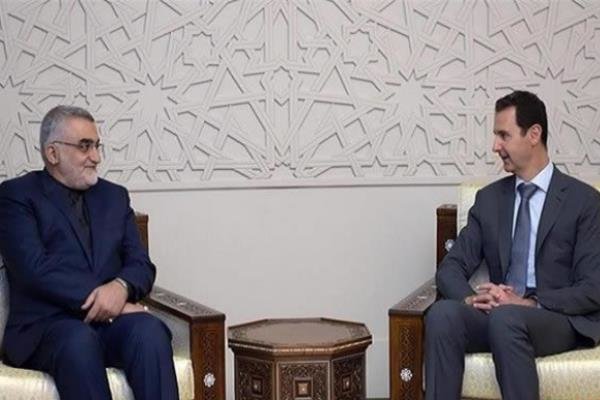 TEHRAN – President Bashar al-Assad hailed on Wednesday Iran's role in fighting back terrorist groups in his war-ravaged country over the past five years, saying gains against terrorists are shared by Iran. 
Assad made the remarks in a meeting with visiting Iranian parliamentary delegation headed by Alaeddin Boroujerdi, chairman of the Iranian Parliament National Security and Foreign Policy Committee.
The visit comes after the liberation of Aleppo, a stronghold for terrorists fighting in the Syrian battleground for a long time.
On Dec. 22, 2016, Assad said retaking full control of the northern city of Aleppo was a victory for his Russian and Iranian allies as much as his own country.
During the talks, the two sides reviewed long-standing relations between Tehran and Damascus, exchanging views on upgrading ties. The two also discussed signing economic agreements, according to the Syria Times.
Syria did not take side with Iraq during Saddam Hussein's war against Iran in the 1980s, remaining close to Tehran.
While no more details of the meeting was given, it is most likely that the two have reviewed the recent promising talks in Moscow and Iran.
Tripartite negotiations between foreign ministers of Russia, Iran and Turkey in Moscow resulted in a stronger will to silence guns in Syria.
Following the meeting, a ceasefire was announced in the country. Also, the regional troika have brokered peace talks between the Syrian government and opposing groups, due to take place on January 23 in Astana, Kazakhstan.
In line with this, regional consultation between key actors has begun.
Syrian Foreign Minister Walid al-Moallem, at the head of a high-ranking political delegation, held talks in Tehran on Saturday with his counterpart Mohammad Javad Zarif, President Rouhani, and Supreme National Security Council secretary Ali Shamkhani.
Also, in a separate meeting, Syria's national security chief Ali Mamlouk explored the latest developments in his country.
AK/PA