Velayati calls Iran-Syria ties 'strategic'
January 1, 2017 - 20:32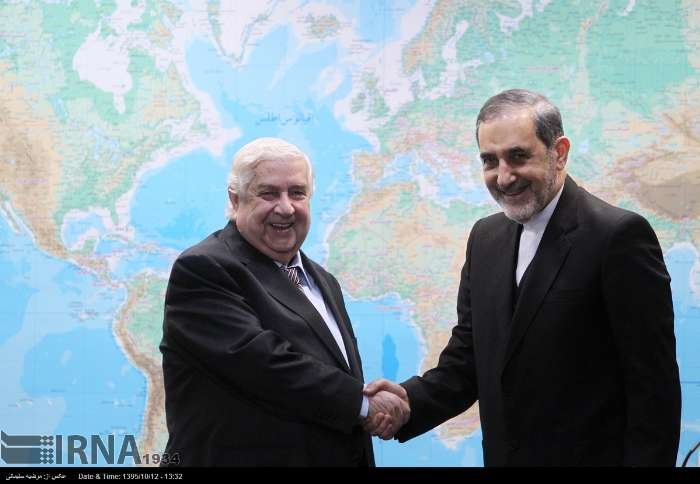 TEHRAN - Ali Akbar Velayati, the senior foreign policy advisor to the Leader, said on Sunday that Iran has had and will have "strategic" ties with Syria.
"The Islamic Republic of Iran has had long term and strategic relations with Syria since (the presidency of) Mr. Hafez al-Assad and it will continue," he said during a meeting with Syrian Foreign Minister Walid Muallem in Tehran.
Velayati also called liberation of Aleppo "victory of the victories".
A ceasefire between government troops and the rebels was declared in Aleppo on December 13.
The Syrian army announced a nationwide truce on Friday.
Muallem called liberation of Aleppo a "common victory" for Iran and Syria.
The liberation of Aleppo has provided a new opportunity for those who are willing to participate in the reconstruction of Syria, he said.
Commenting on the upcoming Syria talks in Astana, Kazakhstan, he said that the armed groups should be separated from Daesh and al-Nusra Front and retreat from areas on the outskirts of Aleppo in order for talks to be successful.
He also thanked the Iranian government, people and Leader of the Islamic Revolution Ayatollah Seyyed Ali Khamenei for supporting Syria.
He also expressed satisfaction over coordination between Iran, Russia and Syria in fighting terrorism.
Iran will stand beside Syrians: Larijani
In a separate meeting with Muallem, Iranian Majlis Speaker Ali Larijani said that Iran has always supported the Syrians and will stand beside them.
"The Islamic Republic of Iran has always stand beside the Syrian nation in various political arenas and will continue its supports and the Syrian nation will be the winner," he said.
He said that Syria is on the frontline of fighting terrorism and Zionism.
He attached great importance to finding a political solution to the Syrian crisis based on inter-Syrian talks.
Larijani also said that presence of the terrorist groups such as Daesh and al-Nusra runs contrary to regional peace and security.
Muallem called for more efforts by the regional countries and the world of Islam to counter the terrorist groups.
He also attached great importance to Iran's status in the region in fighting terrorism.
NA/PA