Trump living in the past, Iran's Larijani says
September 24, 2017 - 20:10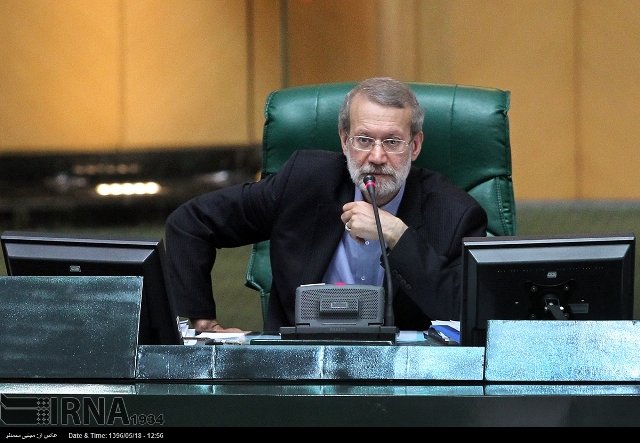 TEHRAN – Iranian Majlis Speaker Ali Larijani said on Sunday that U.S. President Donald Trump is not aware of the developments in the world, noting that it seems that Trump is lagging behind the time for "half a century".
"Mr. Trump has not understood and it seems that he will not understand the fact that the world has changed and the nations are awakened and have completely understood that Iran has reached all of its revolutionary objectives in spite of all the plots," Larijani told an open session of the parliament.
He added, "A kind of political awareness has taken place in Islamic countries which will not be changed by Trump's hollow bluff."
The comments by Larijani followed hostile remarks against Iran by Trump in his first speech at the United Nations General Assembly on September 18 in which he called Iran a "murderous regime".
Trump also said, "It is time for the entire world to join us in demanding that Iran's government end its pursuit of death and destruction." He also claimed that Iran's "support for terror is in stark contrast to the recent commitments of many of its neighbors to fight terrorism and halt its financing."
This time Trump also made the harshest attack on the nuclear deal signed between Iran, the five permanent members of the UN Security Council, Germany and the European Union.
"The Iran deal was one of the worst and most one-sided transactions the US has ever entered into," Trump said. "Frankly, that deal is an embarrassment to the United States, and I don't think you've heard the last of it. Believe me."
Larijani described comments by the U.S. president as "delusional" and "empty".
The parliament speaker also praised President Hassan Rouhani's speech at the UN.
Rouhani, in his UN speech, described Trump's speech as "ignorant, absurd and hateful rhetoric, filled with ridiculously baseless allegations".
He added that Trump's comments "was not only unfit to be heard at the United Nations – which was established to promote peace and respect between nations – but indeed contradicted the demands of our nations from this world body to bring governments together to combat war and terror."
Also on Thursday Ayatollah Ali Khamenei, Leader of the Islamic Revolution, censured Trump's hostile comments as "ugly", "foolish" and "sheer lies". The Leader also noted that "educated Americans are ashamed of having such a president."
Expediency Council Chairman Ayatollah Mahmoud Hashemi Shahroudi also said on Saturday that the U.S. president's speech at the UN originated from his "weakness, frustration and anger".
"Unfortunately, the U.S. president has shown a paradoxical and unbalanced personality so far," Shahroudi pointed out.
NA/PA