Mahmud Farshchian to do painting on Zayandehrud River in Isfahan 
October 2, 2017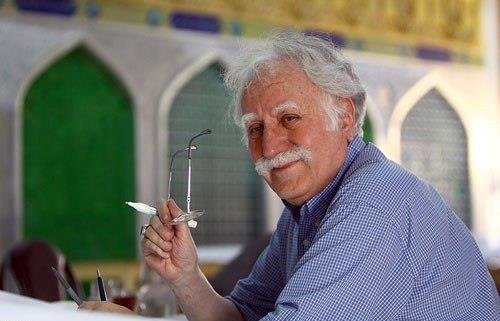 TEHRAN – The master of Persian miniature Mahmud Farshchian plans to create a painting on the Zayandehrud, a river that once flowed in the beautiful city of Isfahan and renowned for its historical Safavid era bridges.
Based in New York, Farshchian frequently visits his hometown of Isfahan and says he is in love with the Zayandehrud River and the historical monuments of the city.
"When I come back again, I will do a painting of the river," he told the Persian service of ISNA on his recent visit to Isfahan.
Once the largest river in the central plateau of Iran, the river has completely dried up over the past decade.
Iranian expert on deserts Parviz Kardavni believes that digging deep wells is the main reason behind the river's demise. However, less rainfall and improper irrigation planning by authorities are some other reasons.
Farshchian, who has also met Isfahan's Governor General Rasul Zargarpur to discuss the issue, said that the governor is well aware of the situation and is making his best efforts to solve the problem.
He said that, like him, all other citizens of Isfahan feel sorry when they see the "dried lips" of the river and have asked the officials for help.
The river, which used to flow for 400 kilometers from the Zagros mountains in the west through parks and under the Safavid-era bridges and was known for its fertile fishery, has been replaced by dirt and stones these days.
PHOTO: Mahmud Farshchian in an undated photo
RM/MMS/YAW