By Marjan Golpira
Drop in Indian oil import from Iran unrelated to Farzad-B: envoy
October 9, 2017 - 20:28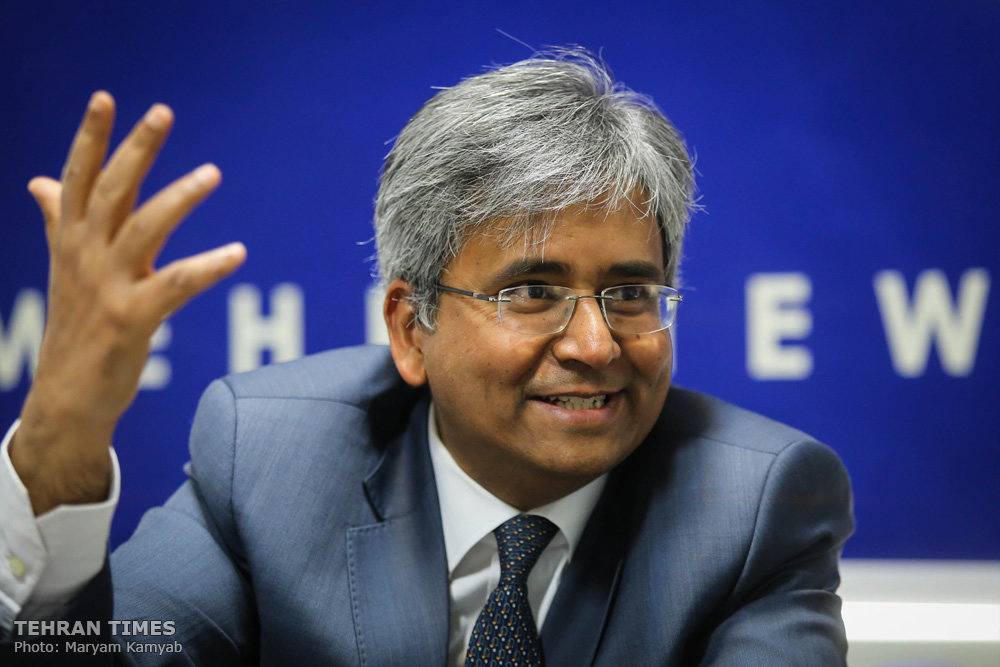 TEHRAN - In a recent interview with the Tehran Times, Indian ambassador to Tehran Saurabh Kumar said a drop in Indian oil import from Iran is not related to negotiations over the issues surrounding negotiations over the Farzad-B gas field exploration.
In 2008, Indian companies were first to discover Farzad-B gas field and later made bids for the development rights of the field.
Following the U.S.-led sanctions on Iran in 2012, India stopped activities in the gas field and in May 2017 Oil Minister Bijan Zangeneh announced that Iran had signed a basic agreement with Russia's energy giant Gazprom for the development of Farzad-B.
Below is the text of the entire interview with Ambassador Kumar.
Q: India has decided to reduce oil import from Iran by around 16 percent as of last month. Some speculate the decision has followed Tehran's refusal to submit to New Delhi's request for exceptional concessions on the development of Iran's giant Farzad-B gas field. What has made India take that road?
A: The import of Iranian crude by India is dependent on several factors and varies depending on these. For example, sometime back, India was filling up its strategic reserves and hence, the offtake of Iranian crude had gone up. Similarly, there are commercial considerations which determine the offtake of Iranian crude. According to figures available with me, India imported over 27 million metric tonnes of Iranian crude (2016-17) which was significantly larger than in 2015-16 when the total import was around 13.6 million metric tonnes. The figure for the first quarter of this fiscal year (2017-18) has also been encouraging with total import standing at 5.6 million metric tonnes. The important point, however, is that there are fluctuations based on factors which I have explained.
As regards Farzad–B , it is our hope that the two sides would conclude a win-win contract, beneficial for both. The two sides have an understanding at the highest level that we need to take our relationship in the hydrocarbon sector away from that of a "buyer and seller" to a more comprehensive partnership. Farzad – B is an important element of this. We would, therefore, like to see the contract concluded.
Q: Some analysts argue India is supporting Iran instead of the Western world. Your comments to that please.
A: As you are aware, we have a historical relationship with Iran. Our ties have been friendly. We are working to give our relationship more economic content. Similarly, like Iran, India also has relations with the western world. We do not believe in zero-sum games. We would like to have cooperative and friendly ties with all.
Q: With Donald Trump having taken office in the United States, would India be more cautious in inking new contracts and doing more trade with Iran?
A: Our relations with Iran stand on their own feet. Our bilateral trade is showing a positive trend and during the fiscal year 2016-17, it was close to USD 13 billion, up from around USD 9 billion the year before. Similarly, during the first quarter of the current fiscal year (2017-18), there has been further growth of around 38%. As you are aware, a number of business delegations have visited Iran in the recent past and Indian participation in trade and commerce-related exhibitions such as in the industrial sector, auto components, textiles, pharma, etc. has seen a significant increase. The trends are, therefore, positive.
"Today (gas) pipeline is not economically very exciting though viable. If you want to transport gas, LNG is the economic option to go for."
Q: The Huffington Post compares Iran-India relationship to Pakistan and U.S. In that article the author says, "In many ways, Iran is to India as Pakistan is to the United States: an uneasy marriage with an unstable partner that is borne of necessity more than affection, which New Delhi — like Washington — would give up in a heartbeat if there was any real alternative. Would India give up Iran in a heartbeat?
A: These are the views of the author and he is entitled to them. The same article of Huffington Post quotes several others who emphasize the importance of India – Iran relations. No two relationships are the same. I have already stated that our relationship with Iran is an important relationship, as well as, a historical one. The Prime Minister's visit to Tehran in May last year not only further strengthened our ties, but laid out a road map for the development of our relations.
Q: The Confederation of Indian Industry or CII just recently launched an office in Tehran. What would this bureau mean to both countries in terms of trade and commerce?
A: The visit of the delegation of Chief Executive Officers (CEOs) of prominent Indian companies under the umbrella of Confederation of Indian Industries (CII) was an important development. You would recall that CII had launched a similar delegation last year and in my view, businessmen returning should be taken as a positive sign. I am told that they had positive interactions during their visit. The office launched during the visit is CII's 11th international office. It would help promote direct interaction between businesses and industries of the two countries.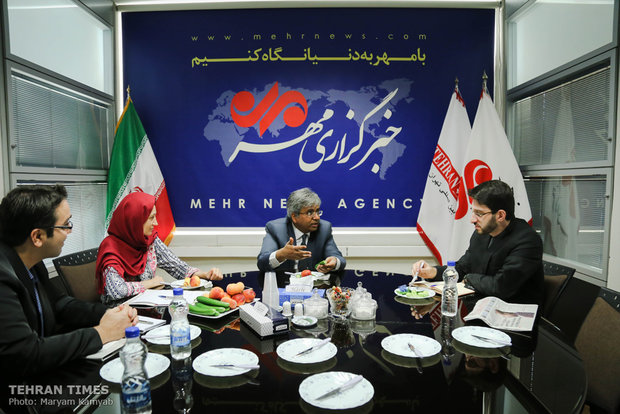 Q: Are we expecting any political or economic visits between the two countries in the current year?
A: Prime Minister had extended an invitation to President Rouhani to visit India. We will be happy to see this visit take place at an early date with a substantive agenda. India–Iran Joint Commission is also due. Meetings of the Joint Working Groups under the Joint Commission are being scheduled and we look forward to the Joint Commission having its meetings at an early date. Our Minister of Road Transport and Highways and Shipping Mr. Nitin Gadkari was in Tehran representing Prime Minister at the inauguration ceremony of President Rouhani. He had good discussions. Recently, we also had the meeting of the Joint Committee on Ports and Maritime matters which, inter alia, looked comprehensively at the development of Chabahar Port. A delegation of the Associated Chambers of Commerce & Industry of India (ASSOCHAM), one of the leading chambers of commerce, is expected to visit Iran in October end. We are also looking forward to parliamentary exchanges.
Q: What is the latest on Chabahar port, India's plan for the port and when it will become operational?
A: Work on Chabahar port is progressing well. As I mentioned, during Minister Gadkari's visit as well as during the Joint Committee on Ports and Maritime matters, we took a comprehensive stock of progress. Civil construction undertaken by Iranian side has progressed very well and the process for procurement of port equipment is presently under way. Iran is moving proposals to avail the USD 150 million line of credit. We hope that the Iranian Majlis would ratify the Trilateral Transit Agreement (i.e., Chabahar Agreement) at an early date. India and Afghanistan have already ratified this agreement.
A delegation of the Associated Chambers of Commerce & Industry of India (ASSOCHAM), one of the leading chambers of commerce, is expected to visit Iran in October end.
Q: Are there any new developments in terms of economic relations between the two countries?
A: I have already spoken about economic ties. An area I would like to flag is banking relations. These are important since trade and commerce moves on these. The situation today is better than it was a year and a half ago. Apart from the rupee trading mechanism, several Indian banks are today undertaking Iran-related transactions. The situation, of course, is not satisfactory and more needs to be done. The Reserve Bank of India recently had a meeting with some Iranian banks which are interested in opening branches / representative offices in India. We would like to see this process move ahead. UCO Bank of India has also opened its representative office in Tehran.
The two countries are also working to conclude a Preferential Trade Agreement as well as agreements to avoid double taxation, and promotion and protection of investments.
Q: At what stage is the on and off gas pipeline deal between Iran and India now?
A: Today pipeline is not economically very exciting though viable. If you want to transport gas, LNG is the economic option to go for. So this pipeline remains where it is. It is something which is not off the table but at the same time it is not something that is very actively being pursued. It is a possibility. But what we are looking at is India investing if things work out well in the Farzad-B gas field. So we are negotiating a commercial contract for that. Iranian side has told us that they would not be interested in the gas which comes out of Farzad-B. So once the upstream part has worked out, we would also be required to look at the midstream and downstream part of it, which is how to evacuate the gas from Iran to India. And I think what has been talked about and possibly will be talked about in this context is the LNG option.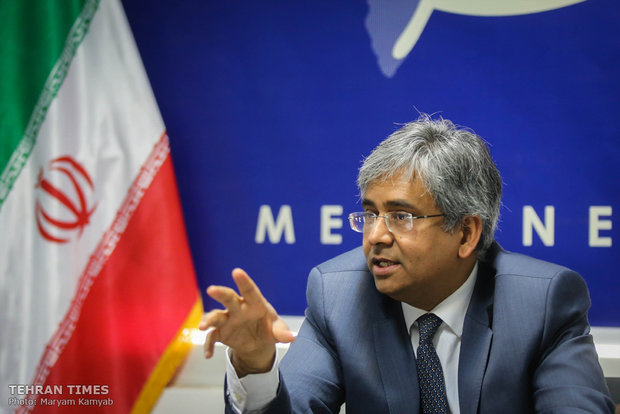 So dialogue is going on between the companies. There are differences in terms of pricing of gas and in terms of other technical parameters. But I can say based on my recent interaction that people on your side are undertaking the discussion seriously and I can say on India's part also that we are very serious about it. We would like to see this project reach its logical conclusion but this would require more discussions, so that the gap which exists is covered by both of us.
"The two countries (Iran and India) are also working to conclude a Preferential Trade Agreement, as well as, agreements to avoid double taxation, and promotion and protection of investments."
Q: Mr. Ambassador, let's turn to the scourge of terrorism. What can India and Iran offer to battle extremism and terrorism?
A: Terrorism is a common menace that the international community is facing. And I would very strongly recommend to you, if you have not heard, our foreign minister's speech at the UNGA. I think it was a wonderful speech not just in the Indian context but the way she dealt with the issue of terrorism overall.
As far as our cooperation is concerned, I must tell you that we have good exchanges with Iranian authorities including between foreign ministries, between the national security councils and other agencies.
There is good dialogue which is there between our two countries and this is not news since this is something that has been going on for quite some time. As far as the region is concerned, we have said it quite openly that we value very much the views and insights which we get from the Iranian side. Because you are present in the region and we are not. We are part of South Asia and share our perspectives of that region.
The Middle East region is important for us for a variety of reasons. Apart from our historical ties with the region we have a big Indian population which is spread out in the region. We have a lot of energy dependence on the region, and connectivity is very important through the region for access to Central Asia and Afghanistan. So through Chabahar and other ports like Bandar Abbas connectivity initiatives are important including the North-South transport corridor.
We would want the region to be stable and we would want the issues in the region to be resolved through dialogue and in a peaceful manner. And that is what your approach is. So I think this is how we look at it and to answer your question we have good interaction and dialogue between us and countries of the region including Iran.