By Salman Parviz
India-Iran energy co-op in the pipeline
January 29, 2017 - 9:57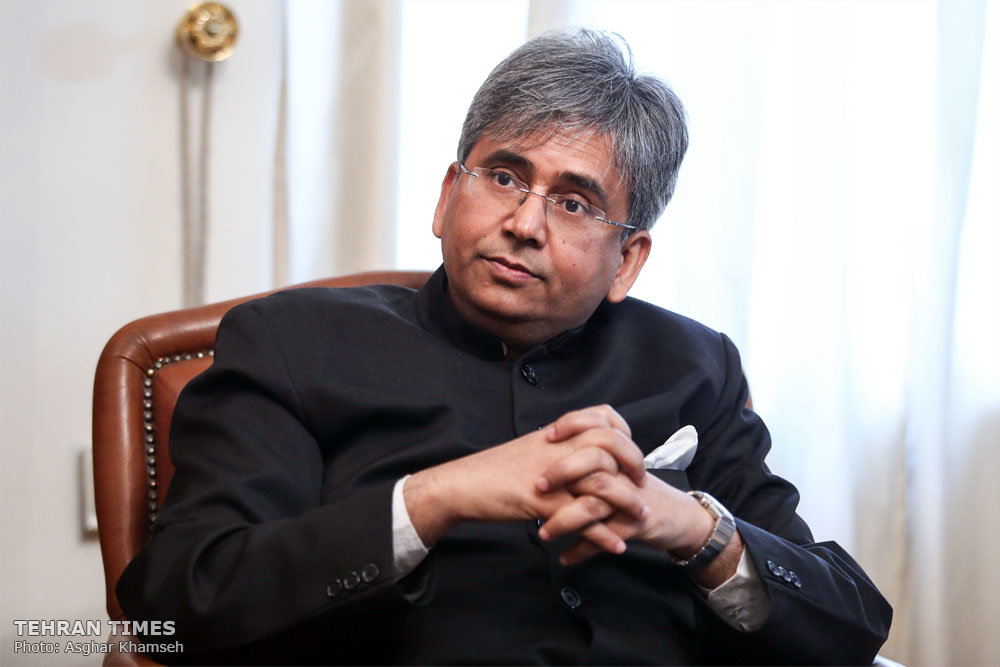 TEHRAN – Marking India's 68th Republic Day a flag-hoisting ceremony was held at the embassy on Thursday. It was followed by a speech by Ambassador Saurabh Kumar. After the ceremonies the Indian envoy talked with the Tehran Times about India-Iran relations.
Below is the text of the interview.
Q: Seven agreements, valued at over $3b, were signed on January 23 on the sidelines of the international conference on investment opportunities and sustainable development in Mokran coastal area in the Chabahar Free Trade Zone (CFTZ). Agreements were signed by Indian, Omani, Chinese and S. Korean investors. Could you please elaborate on this?
A: Chabahar is a very important symbol of cooperation between India and Iran. It was a very important issue of connectivity between India, Iran and Afghanistan and as well as the Central Asia region. Deputy Chief of Indian Mission, Davesh Uttam, was present at this ceremony which was attended by around a dozen Indian companies.
We have a few important initiatives which are presently under way. Rashtriya Chemicals and Fertilizers and Gujrat State Chemicals and Fertilizers are two important Indian companies that manufacture fertilizers and are looking to establish urea and ammonia plant in CFTZ. They are searching for a reliable partner from the Iranian side.
"There is no distinction between good terrorist and bad terrorist."Another initiative is an agreement between National Aluminum Company of India (NALCO) and Iranian Mines and Mining Industries Development and Renovation Organization (IMIDRO) for an aluminum smelter plant in CFTZ. A delegation from NALCO was here in December and held extensive discussions with IMIDRO and visited various sights in Chabahar. At present NALCO and IMIDRO are looking at an independent consulting company to prepare a feasibility report.
In addition, there were other Indian fertilizer companies which held discussions with the Iranian side. If investments come about they would add significantly to the development of the Chabahar region and provide the needed traffic for the Chabahar Port.
It would be hard to put a deadline into these projects because of their technical nature and commercial aspects. One of the most critical issues is establishing an understanding on the gas price and again there are a lot of technicalities involved. Expectation is that they would reach a positive conclusion and we are encouraging these activities.
Minister of Transport and Urban Development Abbas Akhundi visited India last September. Both India and Iran had decided to hold an event in Chabahar in which Indian private sector and other stakeholders can be invited.
"It (terrorism) is becoming highly unpredictable."We had a high level Indian official from our foreign ministry who was in Tehran in January and he visited the Chabahar region. During those interactions, we decided that we are looking at this event on the second half of April. I emphasize the importance of this event because what Chabahar needs is investment.
The private sector will be the major investor and it needs a lot more exposure to Chabahar and the facilities there.
India will invest $85m in equipment for phase one of Chabahar Port and the process is underway which would short list the Indian companies that would provide the needed equipment. As far as the $150m in line of credit is concerned we are waiting for the Iranian side to submit the projects for which the finances would be utilized.
Q: In your previous interview with the Tehran Times you said "we are trying to put in place three important agreements", namely Preferential Trade Agreement (PTA), double taxation avoidance and bilateral investment agreement (BIT). Any progress in this goal?
A: This is something that foreign ministries of both countries are monitoring. We had received a proposal from the Iranian side. Indian Ministry of Commerce and Industry has examined these proposals and given its comments to the Iranian side.
On double taxation avoidance agreement we had a few suggestions from Iran. On BIT we have agreed on some dates to hold meeting in this regards. However, no documents have been finalized at this stage."
Q: Is the idea of transferring of Iranian gas to India through seabed still under consideration
A: There is a working group relating to this matter. As far as our cooperation for the hydrocarbon sector, which includes transfer of gas to India, both sides are considering all possibilities, including pipelines and LNG. We are looking for a techno-commercial feasible option to utilize.
Q: Turning to political issues, how can Iran and India cooperate on containing the spread of terrorism, especially in Central Asia?
A: Terrorism is a major concern. It is becoming highly unpredictable. This is an issue on which both Iran and India have expressed serious concerns. We have mechanisms through which we exchange views. Very important dialogue has been held between Supreme National Security Council and the National Security Council Secretariat of India.
Q: Can you elaborate on the steps needed for regional security, especially as Iran and India are very concerned about the scourge of terrorism.
A. All the countries have to be sincere in the fight against terrorism. India has always maintained that there is no distinction between good terrorist and bad terrorist. We have to target all terrorists. All means that sustain terrorism have to be attacked, including financing and material support.
Most importantly India has put on the table at the UN a comprehensive convention on terrorism. However, the progress on this issue has not been to our satisfaction. We look forward to cooperation with our partner countries so that this initiative reaches its logical conclusion.
Q: India is the third largest emitter of greenhouse gases. What actions has India taken towards a green economy?
A: Our prime minister is very determined on this matter. For example during the Paris conference we had indicated initiatives including International Solar Alliance, which aims at greater utilization of solar energy.
Domestically we have set many targets for the utilization of renewable energy which includes wind and solar sector. We are trying to cut down on fossil fuel within our energy basket.
On the eve of our Republic Day in India (Wednesday), our president (P. Mukherjee) gave a speech and I quoted a paragraph of his speech in which he pointed that if we don't treat the environment with respect we have to bear consequences.
Q: India is the third largest economy in Asia and the second largest military power in Asia and many believe that the future belongs to India and China. We are expecting more involvement of India regarding its capacities for resolution of conflicts, for example the crises in Syria and Yemen. Any comments?
A: India is a developing country. The focus of the government is to improve the livelihood of the people and for that we want peaceful international environment. That is the requirement for a lot of countries in the region. India has a considerable population in the countries of the (Persian Gulf) region and we have a lot of energy dependence from this region.
Remittance from the Indian diaspora in the region is a major ingredient in our economy. It is to our interest that the region is stable and we keep an eye on the regional developments.
India believes in dialogue for settlement of crises.