Britain 'fully committed' to nuclear deal: diplomat
October 11, 2017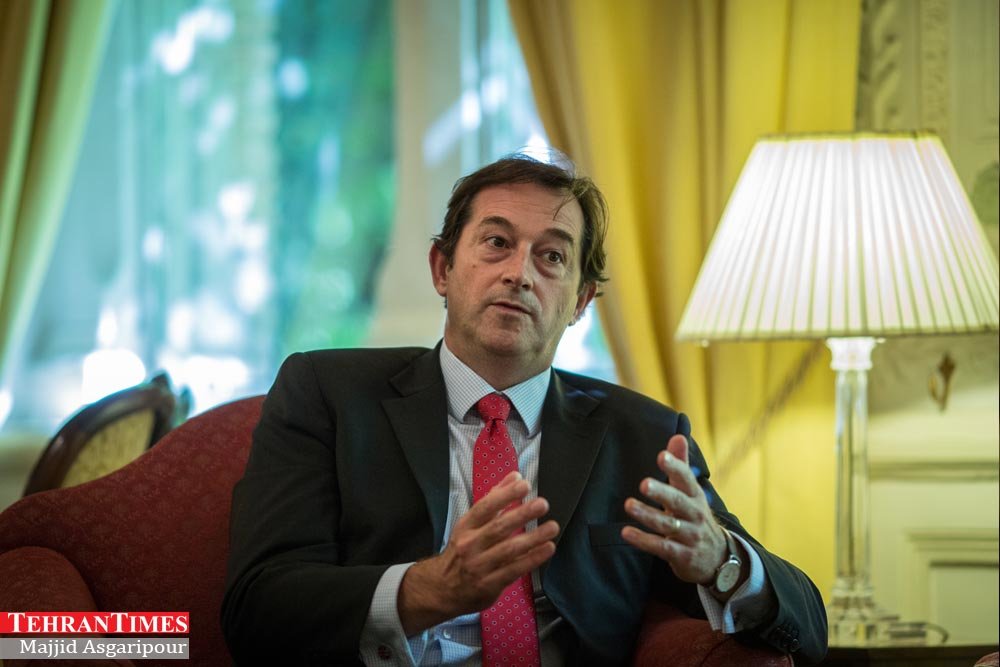 The British Ambassador to Iran, Nicholas Hopton, has said that his government is fully and strongly committed to the successful implementation of the 2015 nuclear deal.
"The British government is fully and strongly committed to the successful implementation of the JCPOA [the Joint Comprehensive Plan of Action] because it believes that this presents the best option for the establishment of peace, stability, security and welfare for the region," ISNA quoted Hopton as saying in an interview published on Wednesday.
The ambassador added that the UK continues working with the partners that are committed to successful implementation of the agreement.
Commenting on bilateral ties, Hopton said, "It is an honor to say that the growth of economic ties have been quick and many important contracts have been concluded between Iranian and British companies and that many other negotiations are on the way."
The British embassy tried hard to link Iranian and British companies following removal of sanctions and implementation of the JCPOA since January 2016, he added.
"The precise extent of bilateral cooperation cannot be easily estimated, but we are sure that the growth of trade between the UK and Iran has at least doubled. This is important and the British government stresses supporting the JCPOA and endeavours to increase the bilateral trade in the future."
The nuclear deal was signed by Iran, the U.S., Britain, France, China, Russia, Germany, and the European Union in July 2105. It went into effect in January 2016.
On September 20 Financial Times reported that a UK company plans to build one of the world's largest solar power farms in Iran, highlighting European investor enthusiasm for the country despite its renewed diplomatic tensions with the U.S.
Quercus, a green investment company in London, said it had reached agreement with Iran's Energy Ministry on plans for a 600-megawatt plant in central Iran that would rival the largest solar projects so far built in China, India and the U.S.
Diego Biasi, Quercus chief executive, said the €500m deal showed Iran was "open for business" and represented a "huge opportunity" for investors in renewable energy.
Iran has set a target to install 5 gigawatts of renewable energy capacity — equivalent to about five nuclear reactors — by 2020 as part of efforts to meet rising demand for electricity while cutting air pollution and carbon emissions.

The country's sunny climate makes it especially suited to solar power generation.
Hamid Baeidinejad, Iran's ambassador to the UK, said the deal with Quercus would support Tehran's goal to become a "major hub of solar energy serving the region and beyond".