By Afshin Majlesi
Tourism holds vast potential for Iran-Korea co-op: envoy
October 30, 2017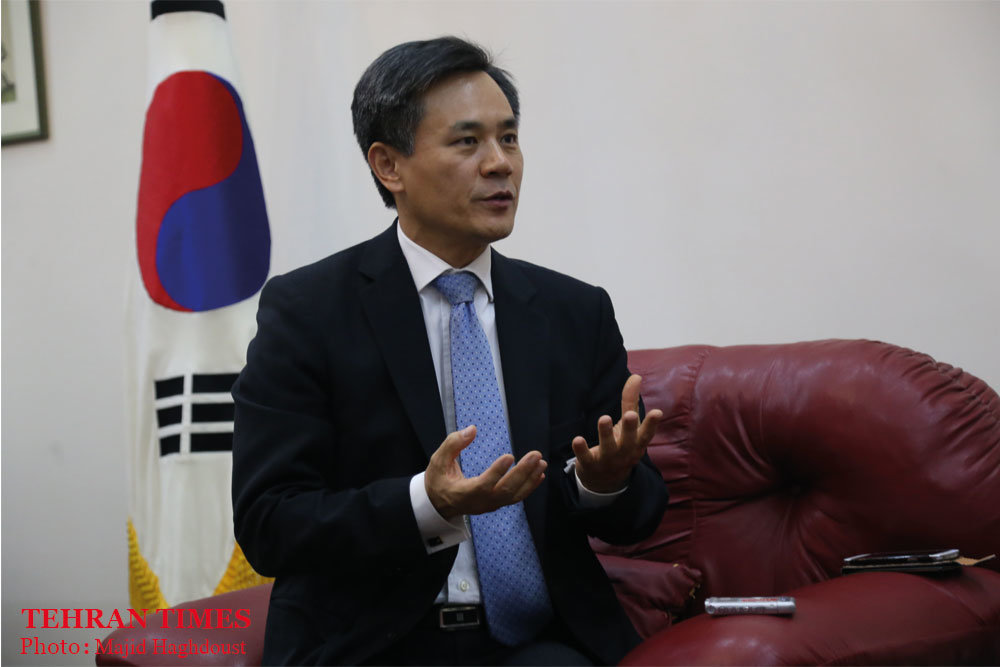 TEHRAN – Seoul's ambassador to Tehran says tourism holds vast potential for the growth of cooperation between Iran and South Korea though most of the potential is still untapped.
Kim Seung-ho terms mutual understanding "a solid foundation" for the two nations to enhance cultural and tourism ties, highlighting the need for proper advertising to involve more and more people.
"Iranian authorities can [widely] advertise Iran's rich culture and tourism destinations in order to penetrate to the Korean society," the ambassador told the Tehran Times in an exclusive interview held at the 23rd Press Exhibition on Sunday.
The two nations established diplomatic relations in 1962. Their resilient, friendly and strategic partnership is frequently referred to as "Korea-Iran One Heart One Soul".
In what follows the text of the interview has been given:
How do you see the status quo in the tourism sphere as well as ways to deepen it?
The Korean government is very keen for increasing these people-to-people exchanges between the two nations. You know, to boost the tourism interest, first of all it requires two governments work more closely together.
Iranian authorities should advertise how rich your culture and your tourism destinations are to Korean people who does not much about Iranian cultural heritage and Iranian tourism destinations.
So you fault the lack of precise information and advertising?
Yes, [by the means of] covering relevant information, advertising and promotion of such potentials, the Iranians will penetrate to the Korean society.
As for the Korean side, for example at embassy here, we encourage Iranian people to travel to Korea. We hold series of events with cultural themes as well.
Any initiative planned for making visa simplification?
Currently, it takes only one day to take a Korean visa. If you apply today, you would get the visa tomorrow. We reduced the necessary document from 12 to 5 in order to facilitate it and shorten the time.
I also pushed an Iranian air service company as well as a Korean counterpart to launch direct flights. The two companies are now watching closely the market situation if it is mature enough to start doing the business.
How many visas granted to Iranian nationals last year?
We issued around 7,000 visas mostly business ones. The number of tourism visas are around 1,000. We grant tourism visas to Iranian travel companies which can gather possible Iranian travelers to the country.
AFM/MG