Assad: Anti-Iran remarks rooted in defeat of terrorists
November 7, 2017 - 21:55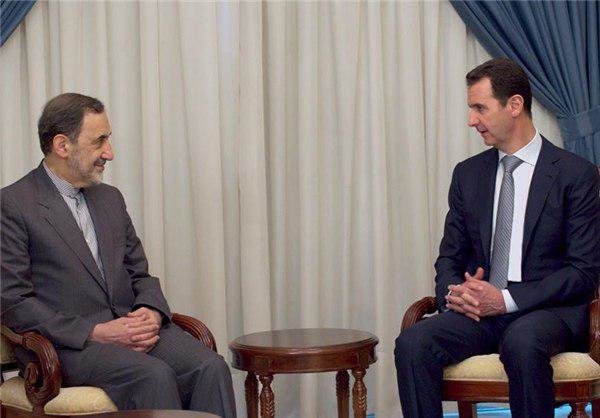 TEHRAN - Syrian President Bashar al-Assad said on Tuesday the remarks and statements against Iran are related to the defeat of terrorists in Iraq and Syria.
"Position of some regional and Western countries against Iran and efforts being made in line with destabilizing other countries in the region cannot be considered unrelated to terrorists' defeats in Syria and Iraq," Assad said during a meeting with Ali Akbar Velayati, the top advisor to Leader of the Islamic Revolution, in Damascus.
In recent days Saudi Arabia has ratcheted up its rhetoric against Iran, blaming Iran for missile attack on Riyadh by Yemenis.
Lebanese Prime Minister Saad Harriri also made a surprise resignation announcement on Saturday from Riyadh, a decision which analysts and politicians say was ordered by Saudi Arabia.
Assad said that Syria's victories over terrorists have revealed the real enemies of the Syrian government and people more than ever.
He attached great importance to expansion of relations with Iran and praised Tehran's support for the Syrian government and people.
Velayati, for his part, hoped that Tehran and Damascus would strengthen ties after the war in Syria comes to an end and security is established in the country.
He said that it is for seven years that the Syrians are resisting foreign-fueled insurgency and the resilience has brought good results to stabilize the country.
"Today, the enemies of the resistance front are at the most fragile situation ever," he noted.
Velayati arrived in Syria on Sunday after his visit to Lebanon. He visited Lebanon on Thursday to attend the International Union of Resistance Scholars meeting. He met separately with Hezbollah Secretary General Sayyed Hassan Nasrallah.
Iran's vice president to pay visit to Syria
Speaking to reporters on the sidelines of his trip to Syria, Velayati also announced that Iran's First Vice President Es'hagh Jahangiri is due to visit Syria in near future.
Velayati said Jahangiri will consult with Syrian authorities on the all-out relations in various economic, cultural, scientific and political areas, hoping the trip would lead to positive and operational results.
Referring to the deep-seated relations between the two countries, he said despite practical problems good progress has been made so far "which undoubtedly relies on long-standing relations between Tehran and Damascus, and as a result, we will have a great future of cooperation."
Velayati pointed to the strategic alliance between Tehran and Damascus as an important factor which have made the two countries able to defend their integrity and resist their enemies.
NA/SP/PA