Master miniaturist Farshchian donates new work to Mashhad museum
November 13, 2017 - 18:13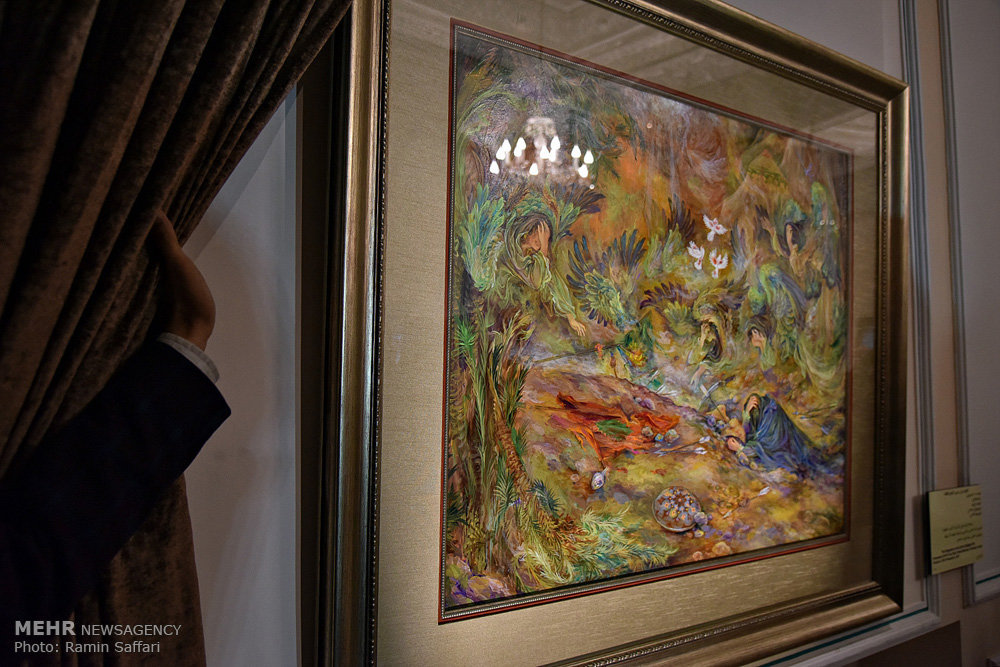 TEHRAN – Master miniaturist Mahmud Farshchian has donated one of his new works to the Astan-e Qods Razavi Museum in Mashhad.
"Heaven on the Earth" was unveiled on Sunday during a special ceremony attended by a number religious figures and Astan-e Qods Razavi custodian Ebrahim Raisi.
The painting measuring 101x82.5 centimeters depicts Hazrat Zainab (SA), the sister of Imam Hussein (AS), and a number of angels mourning for the Imam after being martyred at Karbala in 680 CE.
A collection of 16 other paintings by Farshchian are on display in a special section dedicated to artworks from the 87-year-old artist.
The collection contains his masterpieces "The Evening of Ashura", "Ali-Asghar (AS)" and "The Standard-Bearer of Truth", all of which are about the martyrdom of the Imam.
The ceremony came to an end with the unveiling of a copy of the Holy Quran engraved on 114 plates of granite by Davud Zamani-Azar.
The Astan-e Qods Razavi Museum is adjacent to the Shrine of Imam Reza (AS).
Photo: "Heaven on the Earth" by Mahmud Farshchian, which has been donated by the master miniaturist to the Astan-e Qods Razavi Museum in Mashhad, is on display after being unveiled in the exhibition hall on November 12, 2017. (Mehr/Ramin Saffari)
MMS/YAW