By Mohammad Homaeefar
Macron's remarks not accurate: Iran
November 13, 2017 - 21:2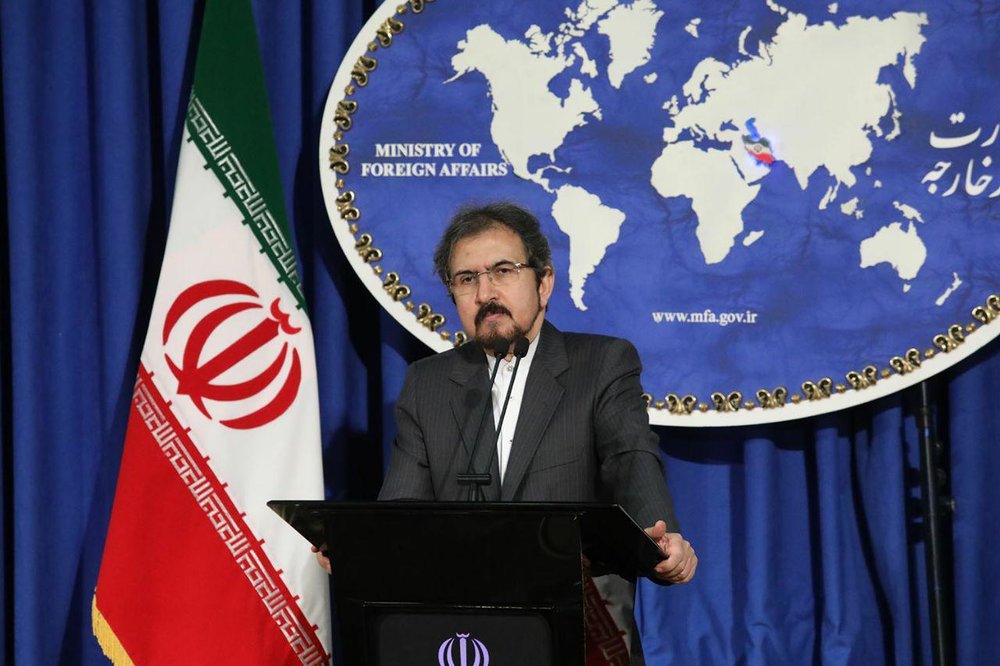 TEHRAN – Foreign Ministry spokesman Bahram Qassemi said on Monday that the recent remarks made by French President Emanuel Macron about Iran's missile program were "not accurate". 
"We want France to pay closer attention to regional issues, as there are many enemies here [in the region] trying to affect Iran's relations with European countries, especially France," Qassemi said in his weekly press conference.
During a visit to Dubai on Thursday, Macron said he was "very concerned" by Tehran's missile program after Riyadh claimed it had intercepted a missile fired from Yemen and accused Iran of arming Houthi Ansarullah fighters.
The French president also called for a firm stance over Iran's ballistic missile program, raising the prospect of possible sanctions on Tehran with regard to those activities.
Qassemi added Macron's upcoming visit to Tehran could be a step to reduce misunderstandings and disagreements between the two countries.
'Iran does not interfere in Yemen'
Qassemi said Iran does not interfere in Yemen or other countries.
Earlier this month, the Houthi movement, which has been fighting off a Saudi-led coalition with allied army troops and tribal fighters, fired a missile at the King Khalid International Airport in northeastern Riyadh. Saudi Arabia said it intercepted the missile mid-air.
Citing the Saudi blockade of Yemen, the Foreign Ministry spokesman said Iran cannot send weapons to Yemen even if it wished to do so. "We can't even send humanitarian aid to the country, let alone weapons," he explained.
Such claims of interference by Iran are part of the enemies' psychological war against the Islamic Republic.
'Hariri case is no one's business but the Lebanese'
The spokesman also said Tehran has always been pushing for stability, security and peace in Lebanon and that the Islamic Republic regards the questions surrounding the resignation of Prime Minister Saad Hariri as a purely Lebanese issue.
On November 4, Hariri surprised the world by announcing his resignation in a televised program broadcast from Saudi Arabia. A number of Iranian officials said he had been forced by the Saudis to resign.
"Based on the official policy of the Islamic Republic of Iran, we never interfere in other countries' internal affairs," Qassemi said.
Qassemi was responding to a question by the Tehran Times correspondent on whether the Foreign Ministry would react to Hariri's house arrest in Saudi Arabia by pursuing the issue through international channels.
"Hariri's case is no one's business but the Lebanese," he noted, emphasizing that Iran follows a non-interventionist policy and urges other countries to resolve their issues through dialogue.
He said Hariri's resignation was "unexpected" and "suspicious" since he announced his resignation while he was in another country.
In a television interview on Sunday, Hariri said he will return home in days to formally submit his resignation. "I have resigned. I am going to Lebanon very soon and I will resign in the constitutional manner," he said.
The Foreign Ministry official said Tehran is hopeful that the Lebanese prime minister will soon return to his country and officially follow up on his resignation there.
He further voiced optimism over Hariri's Sunday night TV appearance, hoping his return would bring back stability to Lebanon.
Upon his resignation, Hariri had accused Iran of sowing "fear and destruction" in several countries, including Lebanon, and blamed Tehran and Hezbollah for his decision to quit.
On Sunday, he said the main problem for the region was "Iran interfering in Arab states."
Qassemi declined to comment on Hariri's anti-Iran remarks, saying he will respond to him in coming days, because "it is not yet clear in what conditions he has made the remarks."
He said Hariri had a "good" meeting with Ali Akbar Velayati, an advisor to the Supreme Leader Ayatollah Ali Khamenei, prior to his trip to Saudi Arabia.
During the meeting, according to the spokesman, the two discussed bilateral ties.
On the possibility of a new Saudi-orchestrated proxy war in Lebanon, the spokesman said he would not take a stance based on mere hypothesis.
MH/PA