By Mahnaz Abdi
Expo Pakistan aims to strengthen trade with Iran
November 13, 2017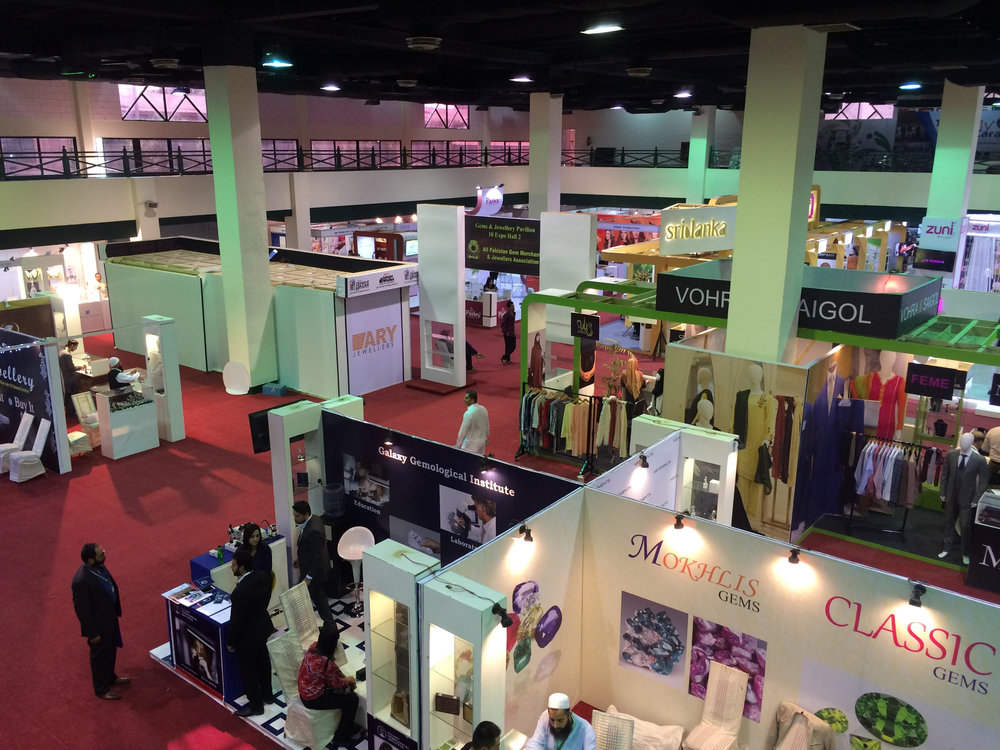 KARACHI- Expo Pakistan is the biggest trade fair in Pakistan, showcasing the largest collection of export merchandise and services. Foreign exhibitors from neighboring countries also use this platform to display their products.
First held in 2005, the success of last Expo Pakistan in 2015 was manifested by the participation of a large number of local and foreign buyers who settled business deals estimated at around $1.2 billion.
Organized by the Ministry of Commerce and Trade Development Authority of Pakistan (TDAP), the 10th Expo Pakistan was held from November 9 to 12, 2017 at Karachi Expo Center.
Among the many foreign delegations visiting this year's event, there was a delegation of Iranian businessmen headed by Nazar Muhammad Ranjha, the commercial counselor of Pakistan in Iran.
Iranian delegates from different sectors in different provinces discussed business opportunities with the Pakistani counterparts in some B2B meetings during the exhibit.
They also explored the ways to promote bilateral trade and remove existing barriers in the way of their business ties with the neighboring country in two separate meetings with Federation of Pakistan Chambers of Commerce & Industry (FPCCI), with headquarters in Karachi, and Karachi Chamber of Commerce & Industry (KCCI) on the sidelines of the expo.
Meeting each other best way to increase bilateral trade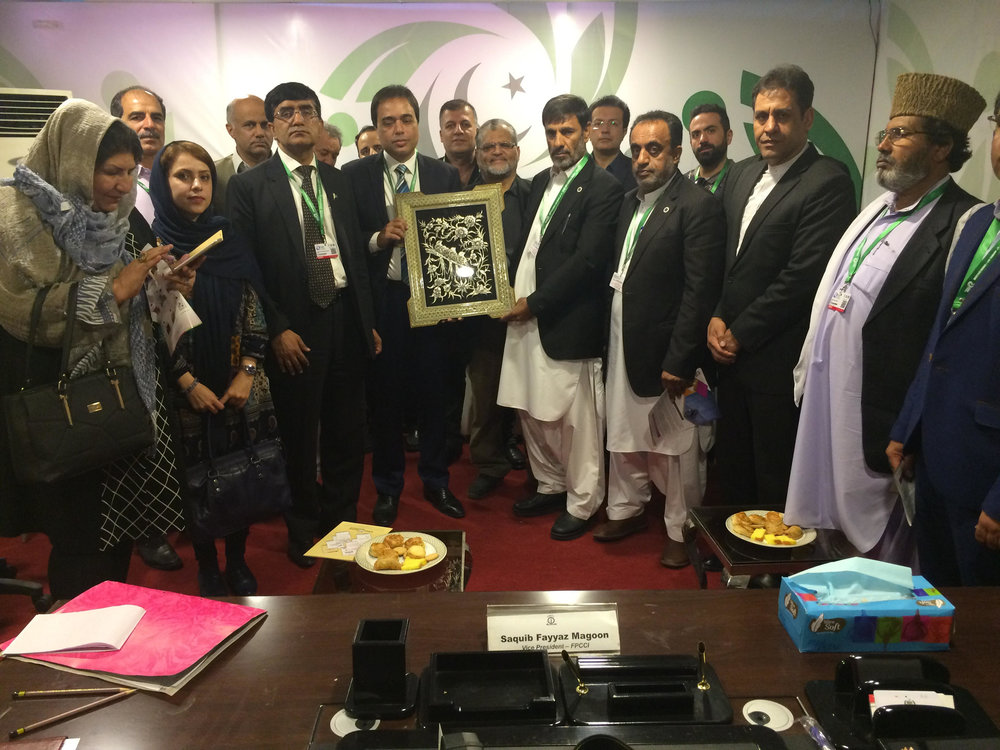 The vice chairman of Iran's Sistan-Baluchestan Province's Chamber of Commerce Amanollah Shahnavazi (R) giving a gift to Saquib Fayyaz Magoon, the vice president of Federation of Pakistan Chambers of Commerce & Industry
On November 11, the third day of visiting Expo Pakistan, the Iranian delegates attended a meeting with Saquib Fayyaz Magoon, the vice president of Federation of Pakistan Chambers of Commerce & Industry.
Iranian Commercial Attaché in Pakistan Morad Ne'mati was also present in the meeting which was held in a hall in the exhibit.
In the beginning of the meeting, Fayyaz Magoon briefed the attendees on the activities of FPCCI.
He said: "We have 65 chambers of commerce from all over Pakistan as our members and 130 trade associations of different sectors are also our members."
"We make a bridge between the business community and our government and we also make a bridge between our businessmen and the businessmen from outside to contact with each other", he added.
"I am very happy actually to increase the business in the best way to meet with each other. Without meeting we cannot increase the bilateral trade", he noted.
"We have a very good relationship and we have very good business relationship also. So many products we are exporting to Iran and so many products we are importing from Iran", the FPCCI vice chairman stated, adding, "We are neighboring countries. We enjoy very good relations. You are here and if you need any help from us we can help you. Because all the chambers and associations all over Pakistan are our members so if you face any problem the FPCCI would like to solve it."
"In my idea the best way to increase the bilateral trade is to meet each other. So we are here planning to exchange delegations", Fayyaz Magoon told the Tehran Times in an interview after the meeting and added that by this way when there will be the exchange of businessmen from each country then bilateral trade will increase.
Explaining about Expo Pakistan, he said: "85 delegates from different countries are here. From UK, U.S., Italy, Brazil and any country you can name are already here because you know Pakistan is completely changing and people know that it was only in the past in wrong media that make a wrong concept about Pakistan. You [Iran] are also one of the victims of media. So whenever you are here you feel you can go everywhere especially for Iran there are very big sentiments about Iranian people and you will go to the market in Pakistan everybody will welcome you."
Direct business missing with Iran
Muffasar Atta Malik, the president of Karachi Chamber of Commerce & Industry (KCCI), speaking in a meeting between KCCI members and Iranian businessmen
The same day, Iranian delegates met Muffasar Atta Malik, the president of Karachi Chamber of Commerce & Industry (KCCI), and some members of the chamber in the same hall of the exhibit.
The president briefed them about the chamber saying: "Karachi chamber is the biggest chamber of Pakistan. The largest by size with 22,000 direct members and seven cities' associations associated to us and if we include their companies into our membership the number will be 55,000. We are the biggest chamber in the subcontinent."
"Our membership includes diversified members from small and medium enterprises to large industries of Pakistan operating in Karachi are our members", he added.
"Our management committee consists of 32 members, of which two members are mandatory ladies seats. The ladies can also contest on the remaining 30 seats", he underlined.
"This is a very large chamber. We have divided our operation into 16 different segments. So each segment we call the subcommittee and these subcommittees range from export, import, industry, etc", Malik further said.
"Iran is a brotherly state and we miss having direct business with Iran. We, Karachi members, hope your government and our government quickly resolve all the issues that we can have direct business with Iran and stop from Iran to Dubai, because like us you also have this kind of barrier", the president of chamber noted.
In the end, he said: "I would like to hear some of your views how we as Karachi chamber of commerce can assist your business."