University of Tehran to host conference on WWII Polish exodus to Iran 
November 19, 2017 - 18:6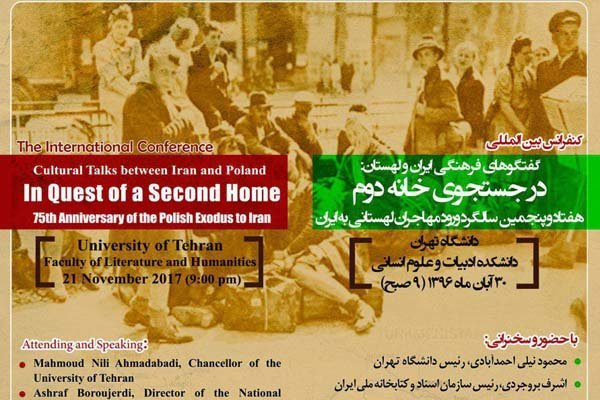 TEHRAN – A number of Iranian and Polish scholars will get together at the University of Tehran on Tuesday to observe the 75th anniversary of the arrival of the Polish refugees in Iran.
The scholars will discuss the reasons why Polish people and their children took refuge in the central Iranian city of Isfahan during World War II in the international conference named "In Quest of a Second Home".
The Polish Secretary of State and Plenipotentiary of the Prime Minister for International Dialogue, Anna Maria Anders, Iranologist Anna Krasnowolska, Professor Renata Rusek-Kowalska of the Institute of Oriental Studies at the Jagiellonian University in Krakow, and translator Ivonna Novicka are among the guests.
National Library and Archives of Iran director Ashraf Borujerdi and Islamic Culture and Relations Organization director Abuzar Ebrahimi-Torkaman are also among the Iranian guests of the conference.
Historian Alireza Dowlatshahi, documentarian Khosro Sinai and researcher Kaveh Bayat will also speak at the conference.
An exhibition of historical documents will be set up on the sidelines of the conference. Sinai's documentary film "The Lost Requiem" about the Polish refugees will also be screened during the conference.
In addition, thespian Maryam Jalili is scheduled to give a performance on peace.
Photo: A poster for international conference "In Quest of a Second Home"
RM/MMS/YAW