Iranian Foreign Ministry to pursue Zaghari case for 'humanitarian reasons'
December 11, 2017 - 13:58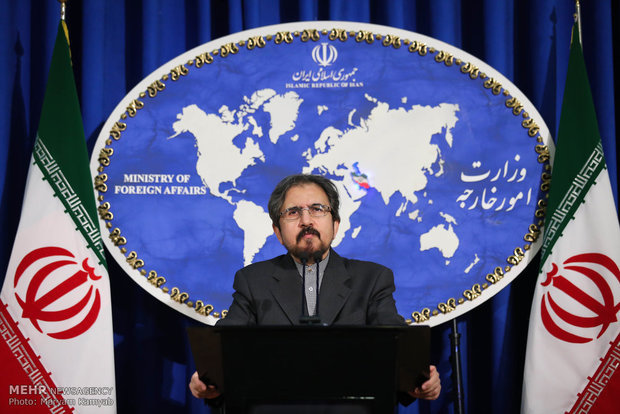 TEHRAN – The Iranian Foreign Ministry said on Monday that it will follow up on the case of Nazanin Zaghari-Ratcliffe, a British-Iranian woman jailed in Iran, for "humanitarian reasons", but emphasized that the Iranian Judiciary acts as an independent body and is the ultimate decision-maker on the issue.
"It's undeniable that Ms. Zaghari's issue was brought up by the British side during a visit to Tehran by UK Foreign Secretary Boris Johnson," Foreign Ministry spokesman Bahram Qassemi said during a press conference on Monday.
Qassemi said the Foreign Ministry explained to the British side how legal cases are handled in Iran and that the Judiciary, due to separation of powers, acts as an independent branch within the Islamic Republic.
Zaghari-Ratcliffe, 38, has been imprisoned in Iran for 20 months for charges that include trying to orchestrate a soft overthrow of the Islamic Republic.
On Saturday, Johnson visited Tehran for a two-day visit to hold talks with senior Iranian officials including President Hassan Rouhani, Foreign Minister Mohammad Javad Zarif, Parliament Speaker Ali Larijani, Secretary of Supreme National Security Council Ali Shamkhani and Chief of the Atomic Energy Organization of Iran (AEOI) Ali Akbar Salehi.
Back home, the British diplomat was under fire for saying last month that Ms. Zaghari-Ratcliffe had been in Iran "training journalists". In his Tehran visit, he was expected to pursue the case of Zaghari and concerns about the consular cases of other dual nationals.
Iran, however, says it does not recognize dual nationals and considers dual citizens as Iranian citizens only.
"[Although] Ms. Zaghari is a dual national, but in our view she is [only] Iranian," Qassemi said. "Under our judicial system, she has been found guilty and is serving her sentence."
The spokesman pointed out that Zarif had told his British counterpart that he will bring up the issue with the country's judicial authorities out of humanitarian concerns.
MH/PA