Jalal Literary Awards unveils nominees in Review Section 
December 26, 2017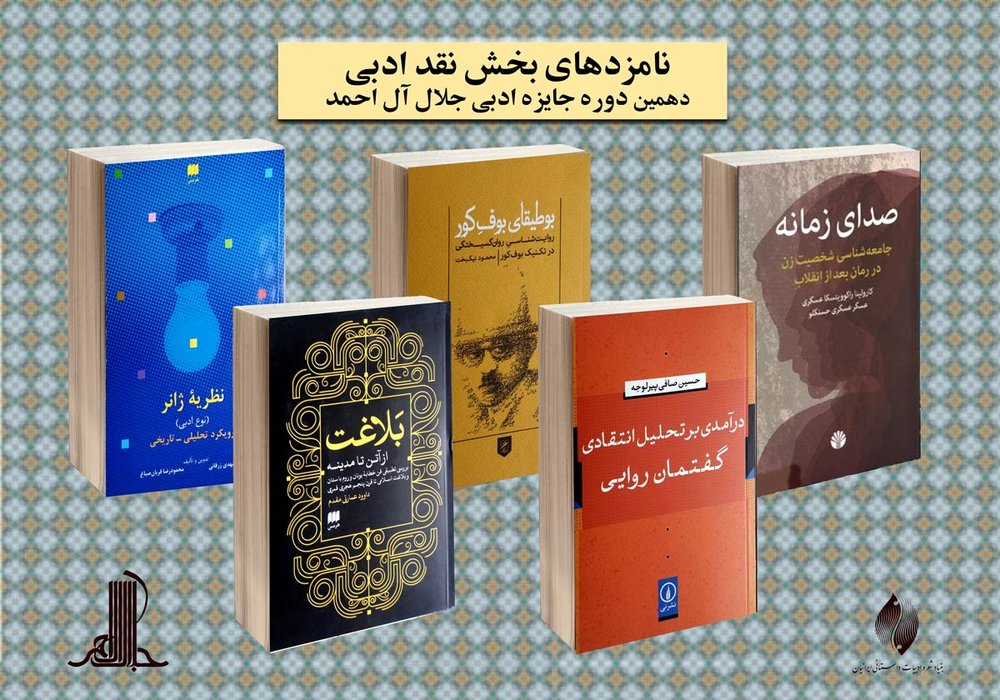 TEHRAN – The organizers of the 10th Jalal Al-e Ahmad Literary Awards, Iran's most lucrative literary prize, have unveiled the nominees in the Review Section.
Five nominees were announced during a press conference at Iran's Poetry and Fiction Foundation on Tuesday. Books reviewing major cultural topics are acknowledged in this section.
The nominees are "Rhetoric: From Athens to Medina" by Davud Emarati Nik-Moqaddam, "Poetry of the Blind Owl" by Mahmud Nikbakht and "An Introduction to Critical Analysis of Narrative Dialogue" by Hossien Safi Pirlujah.
Also included are "Sound of Time" co-written by Asgar Asgari and Karolina Rakowiecka-Asgari and "Theory of Genre" co-written by Mehdi Zarqani and Mahmudreza Qorban-Sabbagh.
Alireza Nikui, Amir-Ali Nojumian and Sarvar Molai are the members of the jury for this category.
The winners will be announced during a ceremony at Tehran's Vahdat Hall on January 6.
Photo: Front covers of five nominees competing in the Review Section at the 10th Jalal Al-e Ahmad Literary Awards
RM/MMS/YAW