Iran urges cooperation with Pakistan to counter U.S.
January 7, 2018 - 19:54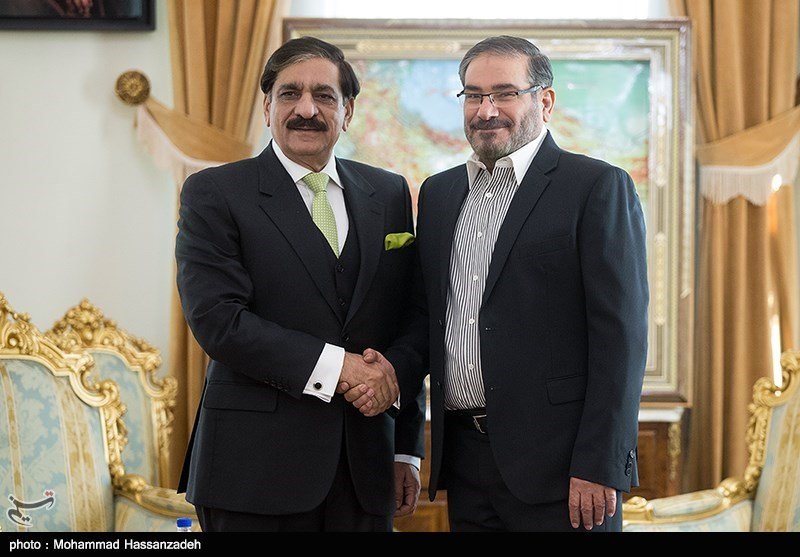 TEHRAN - Secretary of Iran's Supreme National Security Council Ali Shamkhani said on Sunday that Islamic countries, especially Iran and Pakistan, should expand cooperation against the U.S. policies.
"Hypocritical and divisive policies of the U.S. and its double standards towards the Islamic countries make it essential for the Islamic countries, especially Iran and Pakistan, to expand cooperation against the U.S. while being vigilant and taking deterrent measures," Shamkhani said during a meeting in Tehran with Pakistan's National Security Advisor Nasser Khan Janjua.
For his part, Janjua said that Pakistan will expand cooperation with Iran in security and economic areas.
In an indirect reference to the U.S., the Pakistani security official also said Islamic countries should raise awareness to counter foreign plots which are being hatched to spread division among the Muslims.
'U.S. new national security strategy spread insecurity'

Shamkhani also criticized the U.S. new national security strategy (NSS), saying it will spread insecurity and instability in the world.
The remarks by the Iranian security chief came two days after Pakistan's foreign minister said he sees his country's alliance with Washington as over after Donald Trump, in his new strategy announced on December 18, announced the suspension of U.S. security-related aid to Pakistan and leveled charges against Islamabad.
"We do not have any alliance" with the U.S., Khawaja Muhammad Asif said in an interview "This is not how allies behave."
In announcing the strategy, Trump also targeted two great powers, China and Russia.

Referring to China, together with Russia, as rival and revisionist powers, Trump sharply criticized China for challenging American power.
The United States' severe allegations immediately sparked a backlash from China. The Chinese Foreign Ministry reprimanded the United States for "malicious slander."
The NSS laid forward the Trump administration's harshest stance toward China since Trump took office in January last year. Singling China out for 33 mentions, the report bluntly criticized China for seeking to "challenge American influence, values, and wealth," "attempting to erode American security and prosperity," and using "technology, propaganda, and coercion to shape a world antithetical to" U.S. interests and values.
Specifically, the NSS claimed that "China seeks to displace the United States in the Indo-Pacific region, expand the reaches of its state-driven economic model, and reorder the region in its favor."
Russia also dismissed the U.S. new strategy as imperialist.
"A quick read of the parts of the strategy that mention our country one way or another... (shows) an imperialist character," Kremlin spokesman Dmitry Peskov told reporters.
The strategy, he added, also showed "an unwillingness to give up the idea of a unipolar world, moreover, an insistent unwillingness, disregard for a multipolar world."
NA/PA