Rouhani urges Islamic states to reduce dependence on foreigners
January 16, 2018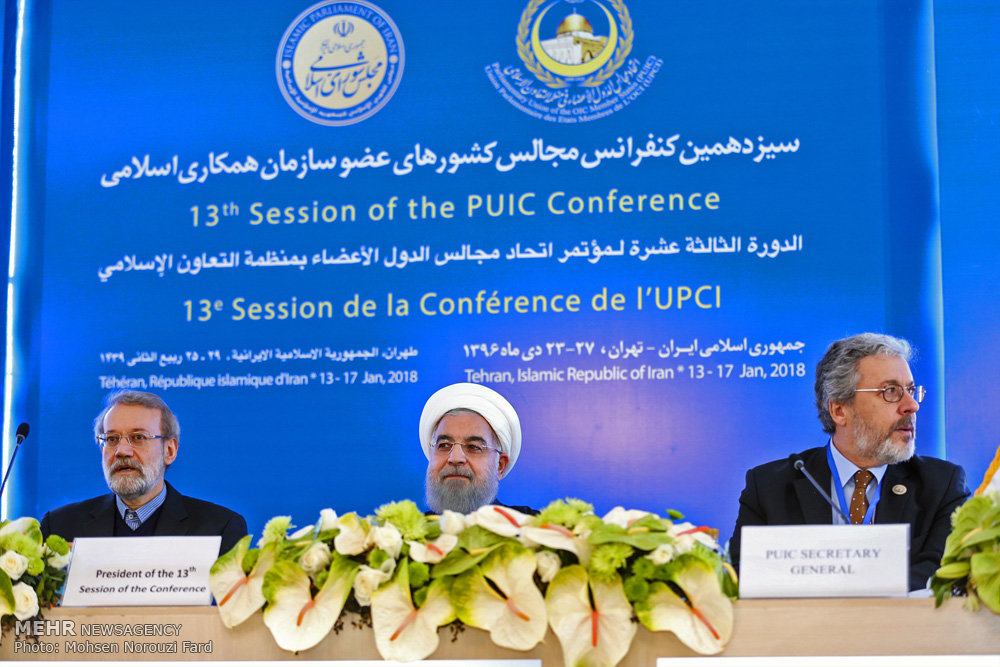 TEHRAN – Iranian President Hassan Rouhani said on Tuesday that it is necessary that Islamic countries abandon division and reduce dependence on foreigners through reliance on domestic capacities.
"We should abandon differences and reduce dependence on foreigners through synergy and reliance on domestic capacities and human resources and in line with developing the world of Islam," Rouhani said during his speech at the Parliamentary Union of the OIC Member States (PUIC) in Tehran.
He noted that foreign powers make efforts to dominate Muslim states and deepen division among them.
"Selling weapons to various countries, which will lead to arms race, and creating division among countries are the acts they take to stay in the region," Rouhani explained.
The president noted that boosting solidarity among Muslim countries will help resolve challenges in the Islamic world.
He also said it is of high importance to promote democracy in Islamic states as a strategy to counter the West.
"We announce to the West that we do not need your intervention through ballot boxes, press and media," the president remarked.
'Iran does not view any Islamic country a rival'
Rouhani also said that the Islamic Republic Iran does not consider any Islamic country as a rival.
In an indirect reference to Saudi Arabia, Rouhani said, "We believe that we can cooperate and negotiate with the countries that we have differences with based on mutual respect. However, some countries deepen division in the Islamic community under the influence of the U.S. and the Zionist regime of Israel."
Iran is ready to cooperate to replace extremism and war-mongering with unity.
Saudi Arabia, especially under its current leadership, has been lobbying the United States to undermine the nuclear deal that Tehran clinched with major powers and the European Union. It has also making repeated hostile remarks against Iran.

NA/PA