Kurdish referendum an act of treason: Leader
October 5, 2017 - 14:59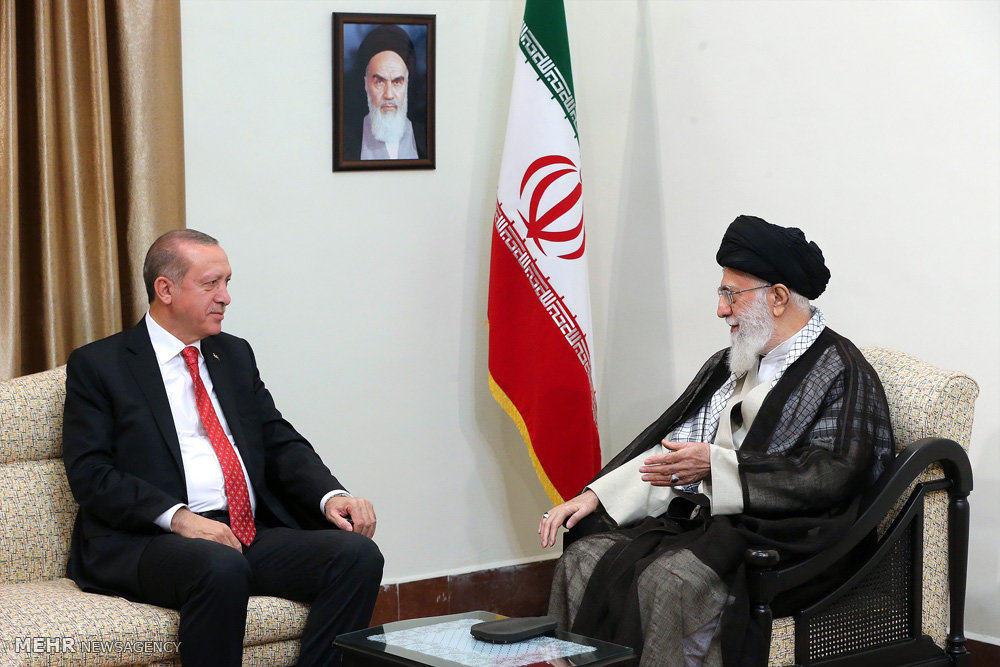 TEHRAN – Turkish President Recep Tayyip Erdogan met with Iran's Supreme Leader in Tehran on Wednesday to discuss mutual political concerns, particularly the recent Kurdish referendum in Iraq and the Syrian crisis.
"America and foreign powers are untrustworthy and are trying to create a new Israel in the region," Ayatollah Ali Khamenei said during the meeting in reference to the Kurdish referendum.
Referring to Islamic world issues from the Myanmar crisis to concerns in North African, Ayatollah Khamenei said alliance between Iran and Turkey would help resolve the issues, to the benefit of both countries and that of the Islamic world in general.
The recent referendum in the Iraqi Kurdistan was an act of "treason" against the region, he said, stressing that Iran and Turkey should adopt "any conceivable measure" to stall the move.
Erdogan, for his part, said that during his meeting with President Hassan Rouhani earlier the day, the two sides arrived at conclusions on the Syrian and Iraqi issues.
"According to irrefutable proof, the U.S. and Israel have reached general agreements over the Kurdistan issue. Holding a referendum, Barzani made an unpardonable mistake," the Turkish president said.
Pointing out efforts by ultra-regional powers to disintegrate the Middle East, Erdogan noted "They have the same agenda for Syria, where the adoption of a unified decision by Iran and Turkey would be of utmost significance."
Rouhani: Iran, Turkey anchors of stability in region
Iran and Turkey are anchors of peace and stability in the region, President Rouhani said during a joint press conference with Erdogan earlier the day.
Rouhani said that sensitive regional issues including the latest development in Syria and northern Iraqi Kurdish autonomous region were discussed during the meeting.
Tehran and Ankara are against the moves aimed at partitioning the region, Rouhani said.
Iran, Turkey seek security and stability of the region, Rouhani said, adding that the two countries do not accept sectarian plots by foreign states.
The Iranian president further said that Tehran and Ankara agree to confront disintegration of Iraq and Syria.
Fighting terrorism, under any name, among main goals of Iran and Turkey, Rouhani added.
He noted that Iran, Turkey and Iraq have no choice rather than taking serious measures to secure their strategic plans.
Rouhani further hailed expansion of bilateral ties between Iran and Turkey in recent years.
He said that the two countries will use national currencies in transactions to expand economic ties.
Erdogan arrived in Tehran on Wednesday morning. Before the trip, he said he would bring home a "roadmap" on regional politics.
After being officially welcomed by Rouhani, Erdogan and his Iranian counterpart immediately sat for talks behind closed doors. Their negotiations came a day after Turkish Chief of General Staff Hulusi Akar met with Iranian Defense Minister Amir Hatami in Tehran.
It had been said earlier that the Turkish leader would particularly discuss with Iranian authorities a united front against the Kurdistan Region as well as Daesh.

SP/