Tehran: Deadly arms exporters unqualified to air judgment on Iran's defense program
February 4, 2018 - 19:51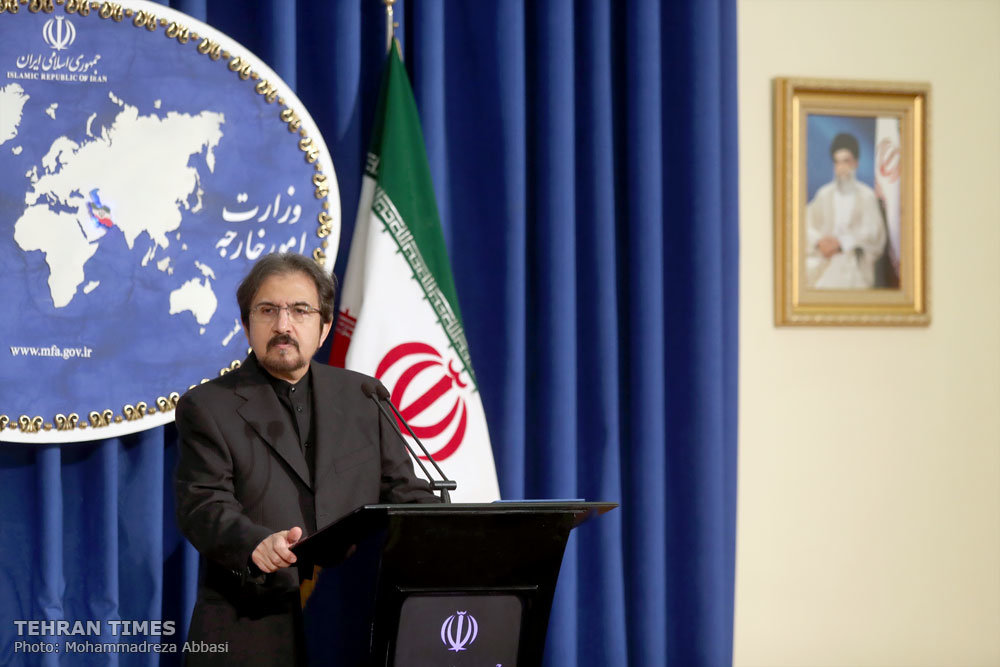 TEHRAN – The Iranian Foreign Ministry has said the United States and other countries that export deadly weapons, many of which end up being used against innocent civilians, are in no position to express opinion about the Islamic Republic's missile defense program.
"America and some other countries, which are producing and exporting deadly weapons, must not export destructive weaponries worth hundreds of billions of dollars to this sensitive region by deceit and pass judgment about Iran's defense might at the same time," Foreign Ministry spokesman Bahram Qassemi told IRNA on Saturday.
The United States has launched an intensive propaganda campaign against Iran's missile program which Tehran insists is only for defensive purposes.
Qassemi said Iran has "legitimate" and "undeniable" right to increase its deterrent power in order to protect its national and security interests.
In accordance with Islamic and national teachings and the principles of the Constitution, the Islamic Republic has not backed down one iota from its legitimate right to strengthen its defensive capabilities and "will still strongly pursue plans and objectives as well as its required defense strategies, particularly in the field of its missile capability," the Foreign Ministry official stated.
Pointing to overt and covert military interventions of global powers, particularly by the United States, in other countries, coupled with psychological warfare, constant Israeli military threats against Iran and various plots by some regional countries, he said, "The Islamic Republic of Iran will not wait for any state's permission to safeguard its national security, preserve the country's sovereignty and defend its nation."
Qassemi added the enemies have made massive efforts to undermine Iran's defense and security power over the past 40 years and are seeking to establish a kind of "unequal military balance" against Iran.
"A powerful Iran is very important not only for the great Iranian nation but for regional peace, stability and security. Undoubtedly, Iran's capability will thwart plots of regional and international enemies and bar them from carrying out any unwise action," the Foreign Ministry spokesman remarked.
Referring to the deterrent nature of Iran's missile program, he said the Israeli regime and the U.S. have found out that a strong and independent Iran would never bow to their bullying and that Tehran would give a firm response to their "thoughtless" measures.
Qassemi added the Islamic Republic has never attacked any neighboring or regional countries over the past centuries and would never do so in the future.
Iran has always made efforts to boost peace and security in the region, he said, adding that psychological warfare against Iran is aimed at promoting Iranophobia.
SP/PA