Zarif: Iran's security dependent on people
February 7, 2018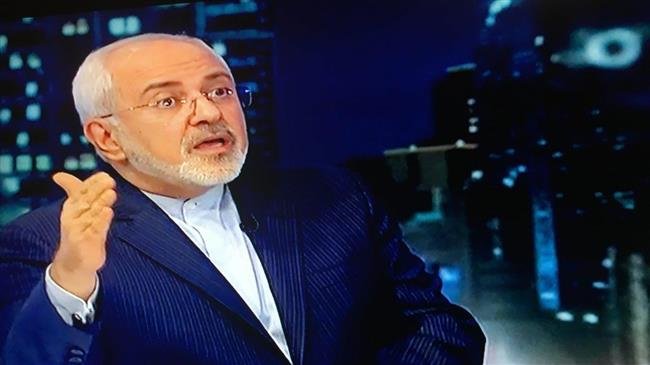 TEHRAN – Foreign Minister Mohammad Javad Zarif late on Monday called Iran the safest country in West Asia and said this is owed to people's involvement in determining their own destiny.
"Our security is dependent on the people… We are indebted all we have to the people," Zarif said in a televised interview.
However, Zarif said, there are countries "around us that depend on foreigners".
Iran believes that security should come from within and through ballot votes, the academic and chief diplomat noted.
There are countries "around us that depend on foreigners" for security, Zarif says.
But certain countries in the region seek to buy security and adopt policy of buying weapons, he added.
"Based on this viewpoint, we consider dialogue the basis of interaction among the regional countries. Unfortunately, some regional countries seek to provide security from outside and try to show that they are constantly in danger. They seek to provide their security through spending money and being dependent on outside," Zarif remarked.
'Trump's stance on nuclear deal was predictable'
Zarif also said that U.S. President Donald Trump's stance on the 2015 nuclear deal, known as the Joint Comprehensive Plan of Action, was "predictable".
"We did not expect the U.S. to fulfill its obligations with good intention while the JCPOA obliges the U.S. to implement the deal with good intention," the foreign minister pointed out.
He noted that Trump is not satisfied with the nuclear deal and makes efforts to scrap it through raising issues that have nothing to do with the JCPOA.
In a statement on January 12, Trump gave Europeans only 120 days to agree to an overhaul of the nuclear agreement and said if the text of the nuclear deal is not revised he would unilaterally withdraw the U.S. from the agreement.
Iran and six world powers, including the U.S., UK, France, Russia, China and Germany, struck the nuclear deal on July 14, 2015. The deal went into effect in January 2016. Since the nuclear deal went into force, the United Nations' International Atomic Energy Agency has issued nine reports each time confirming that Iran has been living up to its nuclear obligations.
Zarif urges end to Yemen war
Zarif also urged Saudi Arabia and the United Arab Emirates to stop war in Yemen and disintegration of the country.
"These countries' policies in the past three years have produced nothing but hatred and murder. We believe that there is no solution to the Yemen crisis except Iran's four-point plan," he explained.
In April 2015, Zarif submitted a letter to Ban Ki-moon, then UN secretary general, outlining a four-point peace plan for Yemen.
The plan calls for an immediate ceasefire and end of all foreign military attacks, humanitarian assistance, a resumption of broad national dialogue and establishment of an inclusive national unity government.
NA/PA