China helps provide food assistance for refugees in Iran
February 13, 2018 - 21:12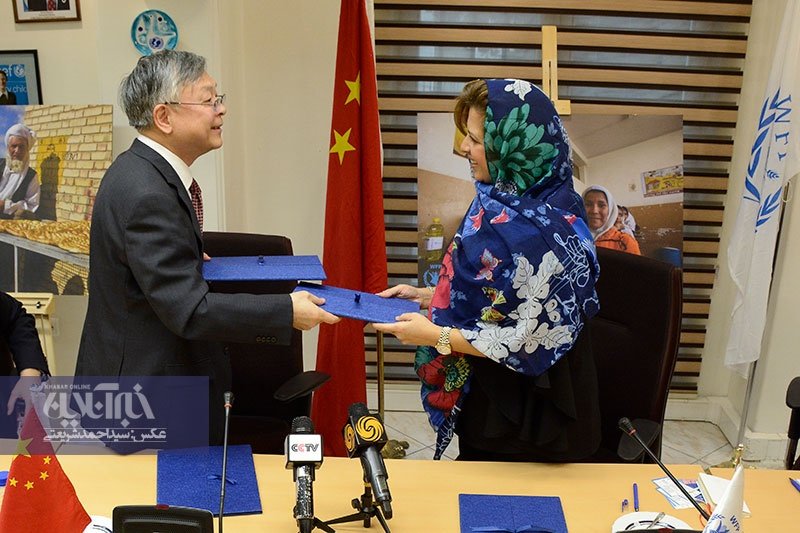 TEHRAN — China made a contribution of $1 million here on Tuesday to the United Nations World Food Program (WFP) to provide food assistance for the refugees in Iran.
The handover ceremony of the generous contribution of $1 million to the WFP projects for Afghan and Iraqi refugees in Iran was held in WFP office with Negar Gerami, WFP Representative and Country Director in Iran, and Chinese Ambassador to Iran Pang Sen in attendance.
According to a press release made earlier in November, 2017 by WFP the contribution is used to purchase fortified wheat flour, sunflower oil enriched with vitamins, lentils, rice and sugar for food distributions among Afghan and Iraqi refugees living in settlements across Iran.
The commodities have been locally purchased to ensure speedy delivery and conformity with Iranian standards.
"The aforesaid contribution was confirmed in August [2017], and the food was procured as per the agreed proposal between WFP and the government of China and I'm very happy to report that we not only fulfilled the obligation but we also managed to procure a little bit more food with the money that we received due to the favorable circumstances and the lower prices," Gerami said over the ceremony.
She went on to say that "So we managed to buy 1,200 tons of food instead of the pledged 985 tons…, the food is sent the 20 settlements across Iran and attributed among 30,000 of most vulnerable refugees residing there."
Chinese Ambassador to Iran Pang Sen, for his part, expressed his gratitude for WFP transparency in fulfilling their obligations.
The ambassador also noted that China, as a developing country, is very much interested in supporting other developing countries.
He further explained that efforts being made to achieve food security of the most vulnerable Afghan refugees in Iran are done as part of the implementation of the South-South Cooperation Assistance Fund declared by Chinese President Xi Jinping at the UN Sustainable Development Summit in September 2015.
He finally expressed hope that the two countries extend more humanitarian cooperation in the near future.
WFP in Iran
The World Food Program is the food assistance arm of the United Nations which has been present in the country for about 30 years, Negar Gerami has told the Tehran Times in an exclusive interview in October, 2017.
As Gerami has said WFP 2018 project has been budgeted for $6 million. The $6 million is going to be spent on 30,000 refugees living in settlements but alongside of that we also promote the education of refugee girls, so we will be giving their families an incentive to send their girls to school.
She also noted that WFP is completely and 100 percent funded by governments, private sector, individuals and institutions. In Iran WFP has attracted the attention of a number of donors. Germany, the Republic of Korea and China are large donors to the WFP, specifically to the WFP Iran.
MQ/MG