Croatian president says ready to deepen ties with Iran
March 2, 2018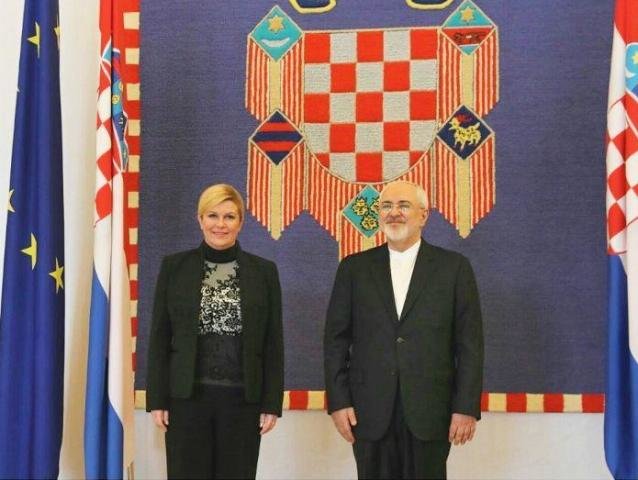 TEHRAN – In a meeting with Iranian Foreign Minister Mohammad Javad Zarif in Zagreb on Thursday, Croatian President Kolinda Grabar-Kitarovic said her country is ready to strengthen ties with Iran.
"We are ready to expand relations with the Islamic Republic of Iran especially in spheres of tourism, science and technology and petrochemistry," the Croatian president remarked.
She called for expansion of cooperation between the Iranian and Croatian businessmen.
For his part, Zarif said that the two countries should expand economic and political relations.
Iran can be a "reliable resource" to provide Croatia with energy resources especially oil and gas, Zarif added.
Zarif, accompanying by an economic delegation, visited Croatia on Wednesday after concluding his trip to Bulgaria.
He met separately with Croatian Prime Minister Andrej Plenkovic on Thursday to discuss expansion of relations.
Plenkovic praised Iran's "positive" and "constructive" role in the Middle East region.
Iran makes efforts in line with stabilizing the region, he added.
In a separate meeting with Gordan Jandrokovic, the speaker of the Croatian parliament, Zarif expressed hope that the two countries would expand relations after removing impediments.
Jandrokovic said that Zagreb attaches great importance to ties with Iran and is ready to expand relations with Tehran in various spheres.
The Iranian foreign minister also met separately with Croatian Foreign Minister Marija Pejcinovic Buric.
Zarif says extremists are not Muslim
Zarif was also in Bosnia and Herzegovina on Thursday. During a meeting with Iranian residents in Sarajevo, Zarif said that extremists are not Muslim.
"We are facing threat of extremism in the region. Extremism has set fire to the region. There is no extremism in religion," the chief diplomat noted.
In a meeting with Bakir Izetbegovic, a member of the Presidency of Bosnia and Herzegovina, Zarif said, "Fight against ideology of extremism should be prioritized."
He added, "Fight against terrorism and extremism is a common concern for us, you and the European Union. Extremism has nothing to do with Islam and other religions. Ideological and cultural fight against ideology of extremism should be a priority. We can cooperate in this respect which is beneficial for the international peace and security."
Zarif also met separately with Igor Crnadak, the foreign minister of Bosnia and Herzegovina.
NA/PA