Iran, Russia, Turkey hold Syria talks in Astana
March 17, 2018 - 10:5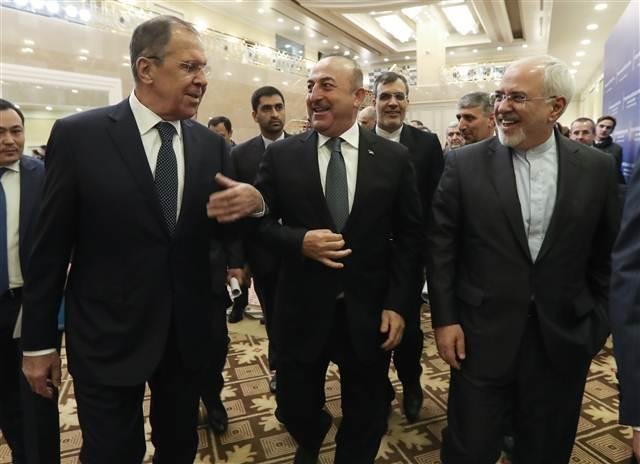 TEHRAN – The foreign ministers of Iran, Russia and Turkey met in Astana, the Kazak capital, on Friday to discuss the dire humanitarian situation in Syria as well as successes and difficulties in the process of de-escalation.
Mohammad Javad Zarif of Iran, Sergei Lavrov of Russia and Mevlut Cavusoglu of Turkey convened in the Kazakh capital to lay ground for a summit involving the presidents of the three countries in Istanbul on April 4 to agree additional approaches to ways of promoting a settlement in Syria on the basis of resolutions by the international community.
"It has been agreed that the presidents of Russia, Iran and Turkey will gather for a summit meeting to agree on more approaches to promoting the settlement principles that were approved by the UN Security Council and actively supported by the Astana process," Lavrov said after the meeting.
In a joint statement issued after the meeting, Tehran, Moscow and Ankara "reaffirmed their strong and continued commitment to the sovereignty and independence, unity and territorial integrity of the Syrian Arab Republic," Russian Foreign Ministry announced.
They also expressed satisfaction with the "concrete contribution of the Astana process to improvement of the situation in Syria during the last year", emphasizing in this regard "the success of their collective efforts in the fight against international terrorism, particularly the defeat of ISIL in Syria and the creation of favorable conditions for the political settlement on the basis of the UN Security Council resolution 2254."
The three states further "reiterated their conviction that there was no military solution to the Syrian conflict."
They underlined the need for a political solution to the crisis "through an inclusive, free, fair, and transparent Syrian-led and Syrian-owned process leading to a constitution enjoying the support of the Syrian people, and free and fair elections with the participation of all eligible Syrians under appropriate UN supervision."
They also expressed their "sincere gratitude to the President of the Republic of Kazakhstan, His Excellency Nursultan Nazarbayev and the Kazakh authorities for supporting the Astana process and hosting International meetings on Syria", and said they decided to hold the next high-level international meeting on Syria in Astana in mid-May 2018.
Kazakhstan has hosted multiple rounds of talks on Syria since January 2017, backed by the three power brokers, most of which involved delegations from the Syrian government and opposition.
MH/PA