By Manijeh Rezapoor
Rouhani to inaugurate Tehran Intl. Book Fair 
April 29, 2018 - 18:50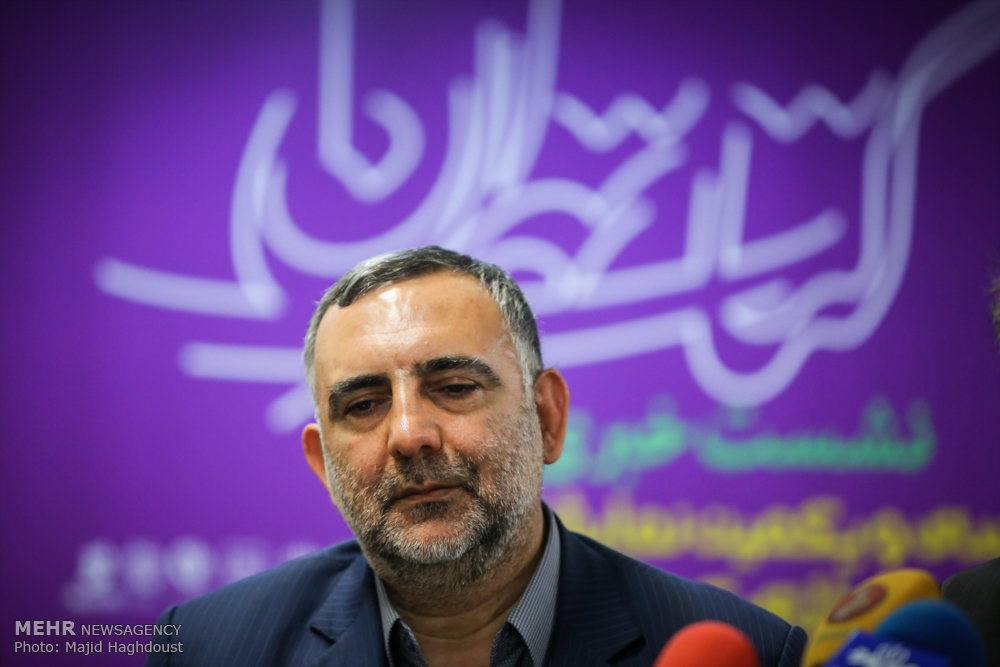 TEHRAN – President Hassan Rouhani is scheduled to attend the opening ceremony of the 31st Tehran International Book Fair, which will start Tuesday in Tehran at the Imam Khomeini Mosalla.
In a press conference held at the Iran Cultural Fairs Institute (ICFI) on Sunday, Deputy Culture Minister for Cultural Affairs Mohsen Javadi and ICFI director Amir-Masud Shahramnia elaborated on different programs set for the fair.
Javadi mentioned that the major activities of the fair have been entrusted to the publishing houses and related organizations to help better organize the event.
"The organizers have also provided suitable lounges for writers and fans to meet and hold talks in addition to the large number of pavilions set up to display books at the fair," he said.
The fair will promote the motto "No to Not Reading Books" this year.
"The motto is intended to reinforce book reading in the country while it also helps people to reconcile with books and book reading once again," Shahramnia said.
"Strengthening cultural diplomacy, better dialogue with the world based on books and book reading and boosting the publishing economy are among the other main goals of the fair," he remarked.
Publishers from over 50 countries, including Germany, China, Hungary, Austria, Russia and Iraq, will be attending the book fair.
The Quintessence International Publishing Group and the Walter de Gruyter GmbH from Germany, the New York-based company Demos Medical Publishing, as well as the CRC Press, LLC, a publishing group from the U.S. are among the attending publishers.
Shahramnia also said that Serbia has been selected as the special guest of the 31st Tehran International Book Fair.
Serbia's Culture and Information Minister Vladan Vukosavljevic is expected to take part in the fair at the invitation of his Iranian counterpart.
A group of Serbian writers along with artists and cultural officials are also scheduled to attend the book fair.
In addition, Tunis, the capital of Tunisia, will be the guest city of the fair. A number of cultural officials, publishers and writers from the city will be at the fair.
Over 2500 Iranian publishers will showcase their latest offerings in various sections of the event.
This year the fair is also scheduled to set up a gallery to display works by Iranian artists.
The 31st Tehran International Book Fair will be running until May 12.
Photo: Deputy Culture Minister for Cultural Affairs Mohsen Javadi attends a press conference in Tehran on April 29, 2018 to brief the media about the 31st Tehran International Book Fair. (Mehr/Majid Haqdoost)
RM/MMS/YAW