By Engin Firat
Iran are on a good way
June 1, 2018 - 18:42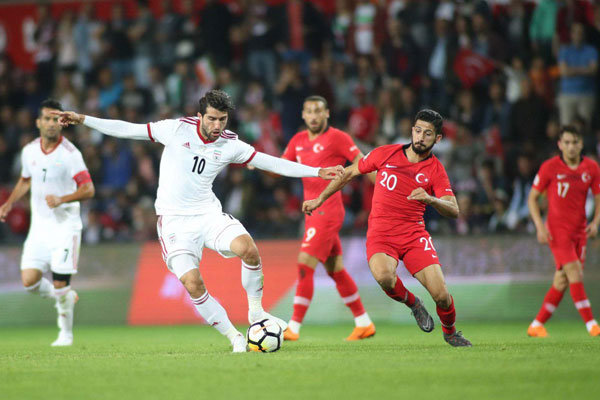 To be honest, I was surprised when I saw the Iran's line-up against Turkey. A very offensive team, which was ready and had full self-confidence to win in Istanbul.
Maybe everybody wants to write history and to get the first win against Turkey.
Turkey's young team made in the first 20 minutes a strong pressing and Iran had problems to organize the game. Afterward, Iran got from minute to minute stronger. They created a lot of goal chances.
It was a match in a good tempo and Iran showed 40-50 minutes that they are ready for the 2018 World Cup. From playing quality it was also possible that the match could end with a draw, but on the other side if Turkey would use their goal chances against a great Alireza Beiranvand, the result could be also a high win for Turkey.
The reason for this is that Iran played in midfield with players who are technically perfect but physical not aggressive enough. For example, Masoud Shojaei is not a real defensive midfielder and had problems to stop Turkey's attacks from center and also Karim Ansarifard is a forward and not useful in midfield. Ansarifard is very dangerous in the penalty area but in this match he was far away because of his position.
Carlos Queiroz will solve this defensive problem in midfield till World Cup anyway. I think he wanted to test an offensive line-up.
Because he has so many good offensive players, it is not easy to decide for the best players. But I believe that he has to find a Place for Saman Ghoddos, because he is the most dangerous player from midfield side.
Even Kaveh Rezaie couldn't find his way to the squad, this shows how much offensive quality this Team has.
But in defense line, it will be difficult to play with Rouzbeh Chesmi as central defender at World Cup. He is not good enough for this level. Everton forward Cenk Tosun had an easy day with Chesmi and scored twice.
What I liked most, was the good performance of the left side; Milad Mohammadi and Ehsan Haji Safi. They are in top form.
This Game will help Iran a lot to prepare for the World Cup, but it is very sad that Greece canceled the next friendly, I hope this will not disturb too much the preparation of Team Melli.
For myself, I was enjoying the match very much. It was great to see a lot of my boys playing against Turkey. Haji Safi was with 18 years my player in Sepahan. I also took Mehdi Torabi and Ali Gholizadeh from youth team to the A team.
If we put all points together, then I am sure we will see a very good Team Melli at World Cup.