Qatar accuses Saudi Arabia of creating disturbance in Persian Gulf
June 5, 2018 - 23:12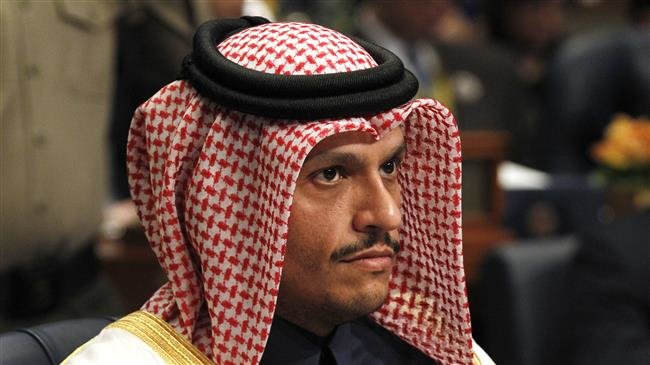 The Qatari foreign minister has slammed Saudi Arabia's alleged military threat against the country as "reckless behavior," accusing Riyadh of creating "disturbance" in an already crisis-hit region.
According to a report by French daily Le Monde on Friday, Saudi King Salman has written a letter to French President Emmanuel Macron, threatening to take military action against Qatar if Doha purchases the S-400 aerial defense system from Russia.
The Saudi king reportedly expressed his "profound concern" over ongoing negotiations between Qatar and Russia for the sale of S-400, urging France to intensify pressure on Qatar in an attempt to prevent the country from purchasing the advanced anti-aircraft weapon system.
"We are seeking formal confirmation from the French government (about the letter)," Qatari Foreign Minister Sheikh Mohammed bin Abdulrahman Al Thani told the country's Al Jazeera TV network on Tuesday, describing the Saudi move as "reckless behavior."
Neither the French president's office, nor the Saudi government's communications office have responded to requests for confirmation of King Salman's letter.
In response to a question about Qatar's intention to go ahead with the S-400 deal, the foreign minister said, "Qatar made all the options open for its defense procurement, so we are seeking the best quality to defend our country and we have all the options open for this."
The Saudi king's alleged threat against Qatar came a day after Saudi Ambassador to Russia Rayed Krimly said negotiations between Riyadh and Moscow over the purchase of S-400 missile system were "advancing well," noting that the two sides were working out the technical details of the contract. Saudi Arabia had signed preliminary agreements to purchase the S-400 system from Russia during King Salman's visit to Moscow last October.
In January, Qatar's ambassador to Russia had also said that negotiations for the acquisition of S-400 were "at an advanced stage."
The announcement came about three months after Russia and Qatar inked an agreement on military and technical cooperation during a visit by Russian Defense Minister Sergei Shoigu to Doha last October.
In June 2017, Saudi Arabia, the United Arab Emirates (UAE), Bahrain, and Egypt severed diplomatic relations with Qatar, in a scheme generally believed to have been orchestrated by Riyadh. The four countries accused Qatar of sponsoring "terrorism" and destabilizing the region, an allegation strongly denied by Doha.
Several African countries have also broken ties with Qatar in support for the Saudi-led quartet.
The Saudi-led quartet presented Qatar with a list of demands and gave it an ultimatum to comply or face consequences. The demands included closing the Doha-based Al Jazeera broadcaster, removing Turkish troops from Qatar's soil, scaling back ties with Iran, and ending relations with Egypt's Muslim Brotherhood movement.
The quartet also imposed sanctions against Doha, including restrictions on Qatari aircraft using the airspace of the four countries. To further pressure Qatar, Saudi Arabia totally closed its land border with its tiny neighbor, through which much of Qatar's food supply crossed.
Qatar, however, refused to yield and denounced the demands as unreasonable, saying its sovereignty had been attacked. In return, the four boycotting countries vowed to impose further sanctions.
According to an investigative report released by the Associated Press in late May, a top fundraiser for US President Donald Trump and his business partner had been prompting anti-Qatar policies at the highest levels of the US government over the past one-and-a-half year in return for lucrative business favors from the crown princes of Saudi Arabia and the UAE.
Trump's fundraiser Elliott Broidy and Lebanese-American businessman George Nader spent a year cultivating links with Saudi Crown Prince Mohammed bin Salman and UAE Crown Prince Sheikh Mohammed bin Zayed Al Nahyan who were seeking to change US foreign policy with regard to their archrival Qatar.
Broidy and Nader spearheaded their secret campaign to influence the White House and Congress and championed the anti-Qatar policy of the Persian Gulf monarchies that eventually led to the blockade of the tiny nation.
The US has strong alliances with both Arab kingdoms. Qatar already hosts the Washington's strategic Al Udeid Air Base, where over 11,000 US and coalition forces are stationed.
(Source: presstv)