Zarif in Pretoria for talks with South African officials
June 13, 2018 - 21:45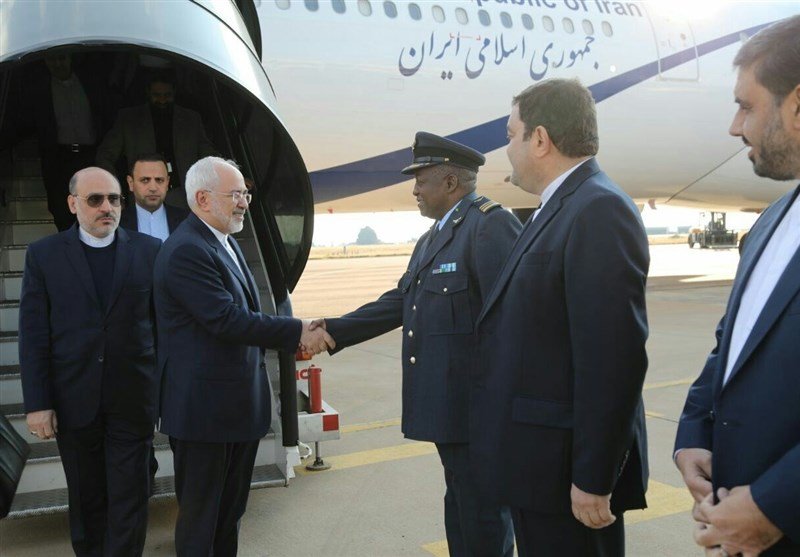 TEHRAN – Foreign Minister Mohammad Javad Zarif visited South Africa on Tuesday evening at the head of a politico-economic delegation for talks with the country's top officials on bilateral relations and the future of the Iran nuclear deal following the U.S. withdrawal from the multilateral agreement.
Upon his arrival in Pretoria, Zarif described South Africa as "one of the close partners" of the Islamic Republic, saying Iranian delegates would hold talks with their South African counterparts on the expansion of bilateral relations, Press TV reported.
He also said after Washington's withdrawal from the nuclear deal, officially called the Joint Comprehensive Plan of Action (JCPOA), all the remaining parties have announced their commitment to taking measures that would ensure Iran's economic benefits.
The European Union countries, along with the Russians and the Chinese, are working on the issue, he said, warning, however, that the clock is ticking on the issue.
Last month, U.S. President Donald Trump announced Washington's pullout from the JCPOA, vowing to reinstate nuclear sanctions on Iran and impose "the highest level" of economic bans on the Islamic Republic. His secretary of state Mike Pompeo also threatened Iran with the "strongest sanctions in history" if it did not comply with a list of steep demands.
Zarif said Iran has yet to receive the "required operational package" that the remaining parties to JCPOA have promised to provide for Tehran to guarantee its economic benefits from the nuclear deal after the U.S. exit.
While in Pretoria, Foreign Minister Zarif met his South African counterpart Lindiwe Sisulu on Tuesday. He was slated to meet with other senior South African officials.
The top Iranian diplomat expressed hope that his discussions with South African officials would be constructive, serve the interests of both nations and help regional peace and stability.
MH/PA