Tehran Symphony Orchestra puts on its first Russian performance
June 16, 2018 - 18:16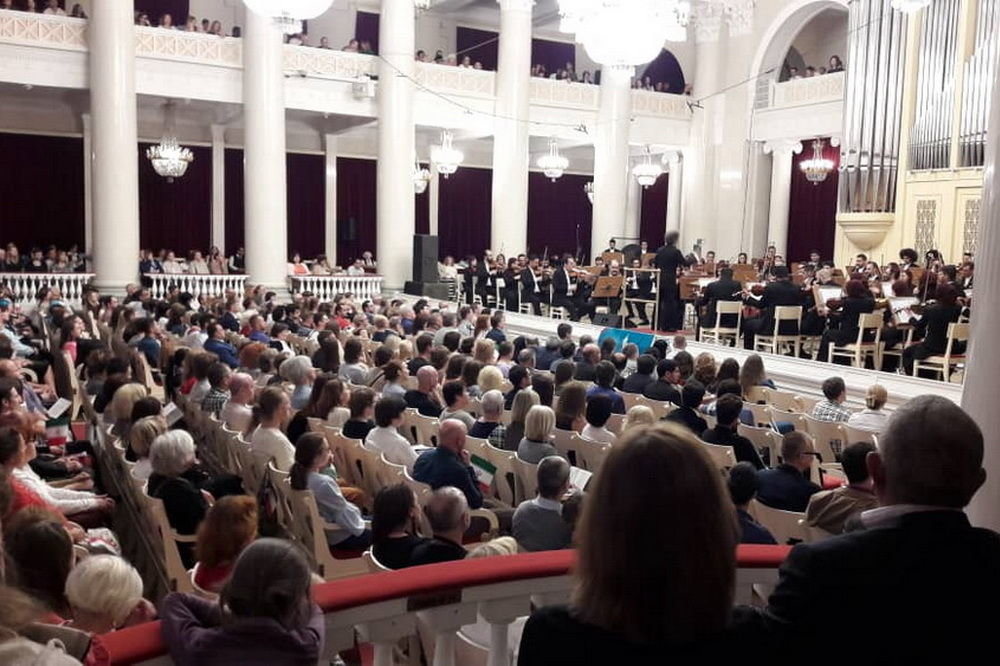 TEHRAN – The Tehran Symphony Orchestra went on stage at the Bolshoi Zal (Grand Hall) of the Saint Petersburg Philharmonia on Thursday night, giving a special performance in honor Team Melli, Iran's national football team that is currently competing in the FIFA World Cup soccer tournament in Russia.
The orchestra under the batons of Shahrdad Rohani and Fereidun Shahbazian performed "Eleven Stars", the official anthem of Team Melli, and pieces from Iranian composers such as Heshmat Sanjari, Ahmad Pejman and Hossein Dehlavi, the Persian service of FNA reported on Friday.
Pieces from Russian composer Pyotr Ilyich Tchaikovsky also were performed.
Before conducting the orchestra, Rohani congratulated the Russian audience on the Russia's national team in the opening match of the FIFA World Cup and joked, "My hope is that the final match will be held between Iran and Russia."
The performance will be repeated in Moscow tomorrow, and the orchestra will leave the city for Kazan to give the final concert of its Russian program for the FIFA World Cup.
Iran won its first match 1-0 against Morocco on Friday in Group B, which also includes Spain and Portugal.
Vocalist Salar Aqili accompanies the orchestra during the performances. The lyrics for "Eleven Stars" were composed by Ehsan Afshari while Babak Zarrin put them to music.
It was debuted by the Tehran Symphony Orchestra at Tehran's Vahdat Hall on May 20.
The piece was strongly criticized by musicians such Keyvan Saket for lacking the necessary elements for an official anthem of a national football team.
Earlier in April, former Tehran Symphony Orchestra conductor Ali Rahbari, who has worked with over 100 European orchestras, criticized Iran's plan to perform the concerts in Russia.
He described the decision as taking coal to Newcastle and said that the performance would not receive any public welcome in the country, which is home to numerous professional orchestras.
Rahbari also called the musical program costly for Iran and asked the Culture Ministry to stop it as the country is suffering a deep recession.
Photo: The Tehran Symphony Orchestra performs a concert in honor Team Melli, Iran's national football team, at the Bolshoi Zal (Grand Hall) of Saint Petersburg Philharmonia on June 14, 2018.
MMS/YAW