By: Syed Zafar Mehdi
"Countries pretending to be 'helping' Rohingya refugees have diplomatic ties with Myanmar"
July 5, 2018 - 13:17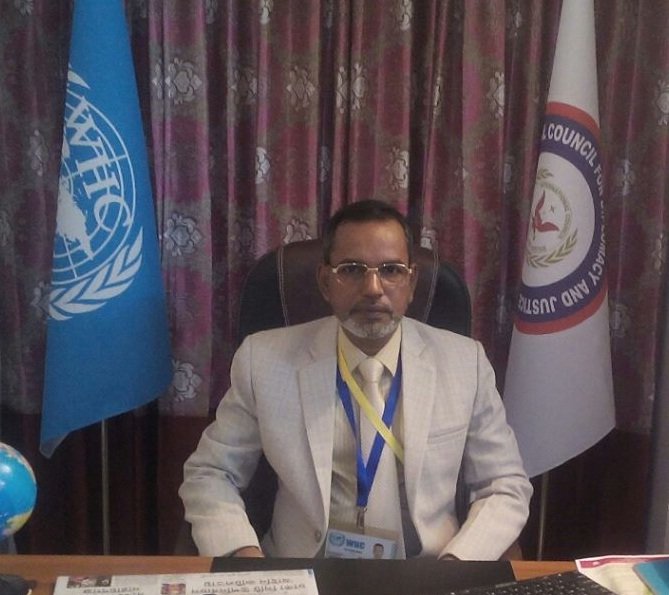 Nur Mohammed is a Bangladeshi political analyst, human rights activist, associated with International Council for Diplomacy and Justice (ICDJ).He actively campaigns for Rohingya refugees.
Q. As per conservative estimates, there are around 905,000 Rohingya refugees in Bangladesh's Cox's Bazar presently. The ongoing monsoon season has compounded their worries. What is being done to protect them from the threat of flashfloods?
A. The number of Rohingya refugees registered in Cox's Bazar and adjoining areas in 2014 was 360,000 but the actual number was almost 550,000. Although the number of Rohingya refugees in Bangladesh is said to be 905,000 today, I think the actual figure is much higher.
I do not think any concrete measures have been taken to protect these refugees from floods and other natural disasters. The focus is primarily on providing them food, medical supplies and clothing. So, a natural disaster is imminent, and the apprehension of epidemic is also there.
Q. UN Chief and World Bank President visited Bangladesh this week and went to refugee camps to take stock of problems faced by the Rohingya refugees. Could you tell me more about their visit?
A. Following his interaction with Rohingya refugees in Cox's Bazar, UN Secretary-General Antonio Guterres said the violence these refugees had faced at home in Myanmar since last August was probably one of the most "tragic stories" of "systematic violation" of human rights ever recorded. He called on the international community to "translate" its solidarity into sufficient support for the Rohingya still living in Myanmar and those displaced across the border in Bangladesh.
He also urged world leaders to increase political pressure on the government of Myanmar. But how will that be done? There seems to be no clear strategy or direction to do that.
Q. Many countries have dispatched aid for Rohingya refugees in Bangladesh but the humanitarian workers believe only aid isn't enough to mitigate their problems. What should the international community do for Rohingya refugees?
A. It is very important to protect human rights and humanitarian values. I always say it clearly that the international community is deceiving humanity in the name of 'help' and 'aid'. Rohingya are refugees in Bangladesh. Basically they are not refugees. They have been made refugees for 'humanitarian business'. The countries pretending to be 'helping' Rohingya Muslims have diplomatic ties with the government of Myanmar. They don't deem it necessary to use their diplomatic channels to solve this humanitarian crisis.
Myanmar government has carried out the most brutal massacre in the world, yet none of their diplomatic offices were closed anywhere. Even the UN has failed them. I believe if the UN wants, the crisis could be solved within a matter of days.
Q. According to UNICEF, children in these camps are suffering from severe malnutrition which could affect their physical growth. Can we term it 'children's emergency'?
A. The condition of Rohingya children in refugee camps in indeed a matter of grave concern. They have been the worst sufferers and it can be termed as 'children's emergency".
Q. UN refugee agency has said that the repatriation of Rohingya refugees must take place in safe and dignified conditions that pave the way for lasting solutions. But do you agree that for these refugees going back to Rakhine is fraught with danger?
A. I agree with this statement made by the UN. It is important to send them back in safe situation and ensure their full protection. The world is alert now, so terrorists in Myanmar cannot get away with their crimes anymore. We hope nobody has to become a refugee again.
Q. Myanmar leader Aung San Suu Kyi has spearheaded the world's fastest growing refugee crisis and refused to take action against the perpetrators. Do you think she needs to be stripped of Nobel Peace Prize and penalized?
A. Myanmar leader Aung San Suu Ky should indeed be punished for presiding over the mass murder of Rohingyas. If she gets away, it can set a dangerous precedent and our world will be doomed.
Q. What lies ahead for these ill-fated refugees? Do you see this crisis being resolved in near future?
A. The Rohingya crisis is a planned conspiracy by the government of Myanmar. The Rohingya community in Rakhine state is Muslim, and they have been persecuted since a long time by the majority Buddhist community with support from the local government.
But, all conspiracies against Rohingya refugees will fail. They will return home very soon and safely. I would urge the UN to financially help them. We want world to be a better place to live in, where everyone has equal rights, and there is no discrimination or oppression.